There tend to be a handful of things Brits look forward to every year. Birthdays, when you have to buy the whole office sweets. Christmas, because you can never have too many socks. The inevitable return of your least favourite Reality TV show. And Bank Holidays. The gifts that keep on giving. Yes, Brits favourite little breaks are bound to put a skip in any worker's step. And our very first one of the year happens to land on Easter weekend. Four days of pure, unadulterated fun. Or relaxation. Or, something in between. So, if you're not jetting off to warmer shores, or, if you happen to be visiting London from out of town, you might be pondering how to make the most of your Easter weekend? Well, we've put our inspector hats on and trawled the entertainment classifieds to bring you this brilliant list of all the best things to do over Easter in London. So, read on, and discover what we've found. 
Featuring:
Things for kids

Easter fun for grown-ups

Easter egg hunts

Wholesome Easter activities

Alternative Easter entertainment
Easter Fun For Kids
Perfect Easter fun for families
With spring in full bloom, it's the best time to go and visit London's best gardens. Kew is known worldwide for its floral beauty, housing 50,000 plants across 300 acres of serene land. And with the glorious sun hopefully shining down from above, it's the perfect place to unwind after months of five-day weeks. And you'll get the blood pumping too, as you'll be doing a lot of walking over those 300 acres! Kew also has some exciting Easter exhibits that'll appeal to kids big and small. The Tower of Colour is a hand-on exploration of light and colour spectrums. You'll discover how plants use these to survive, while decorating ornaments that are put on for display throughout Easter. Then, there's the Chihuly Family Trail, where children can interact with the American sculptor's artwork. And finally, Story-telling takes place every Sunday in the Davies Exploration House, where children can learn all about the special relationship between people and plants. 

Fuel your children's curiosity 
An inquisitive alternative to Easter, The Science Museum's Wonderlab is a breathtaking introduction to the magic of science. Perfect for kids of all ages, Wonderlab: The Equinor Gallery features over 50 amazing interactive exhibits, shows, and demonstrations that will delight everyone. Spread over seven zones that each focus on a particular scientific school, you'll get hours of enjoyment out of it. And, if your little ones still have the science bug, 
did you know that the Science Museum has its very own IMAX on-site
? So, why not go catch a fascinating 3D show, and hope they take the curiosity into the classroom once the Easter holidays are over? And while you're in the area, 
why not go check out the V&A across the street
? 
Easter Fun For A

dults

Do the boat dance

With the long weekend to lean on, you can afford some Sunday night shenanigans. Well, why not join some other fellow young, hip people on a boat. With dance music. And booze! Pukka Up is bringing Ibiza vibes to the Thames with their East Sunday Boat Party. And because it runs from 4.30 pm - 9 pm, you'll have plenty of time to rest up before the dreaded return to work on Tuesday. So, what can you expect on this wild rave on the waves? How about house music from some of Ibiza's brightest DJ talent. And with your choice of indoor and outdoor spaces, you're sure to find something to shake to. As long as it's house music. Pukka Up are also bringing their 'world-famous dancers' on board. And a saxophonist too, hopefully channelling the likes of Kenny G and Tim Capello. 

Sun, songs, cocktails, and some of the best views in the city. Sounds pretty good to us. And, hey, if you want to do the river cruise with a little more peace and quiet, 

we've got just the thing for you too

. 
London Easter Pub Crawl
Swap eggs for pints on a crawl around Central London
Or, if you're liable to get a little sea-sick, or simply prefer to party on more solid ground, we've got just the thing for you. Swap eggs and chocolate for pints and tunes on a London Easter pub crawl. Running 8.30 pm on Thursday 9th April through to Easter Sunday, pick the night which best suits you and then suit up for a night on the town. Starting at the Comedy Bar, you've got the chance to meet lots of friendly faces, hop to a few bars, down a few complimentary shots, and then party until 3 am at London's famous Tiger Tiger club. Enjoy free entry and skip the queue privileges at every venue, amazing drink discounts, and have every moment captured by a professional photographer. 
Tickets start at £10
, so book soon to avoid missing out.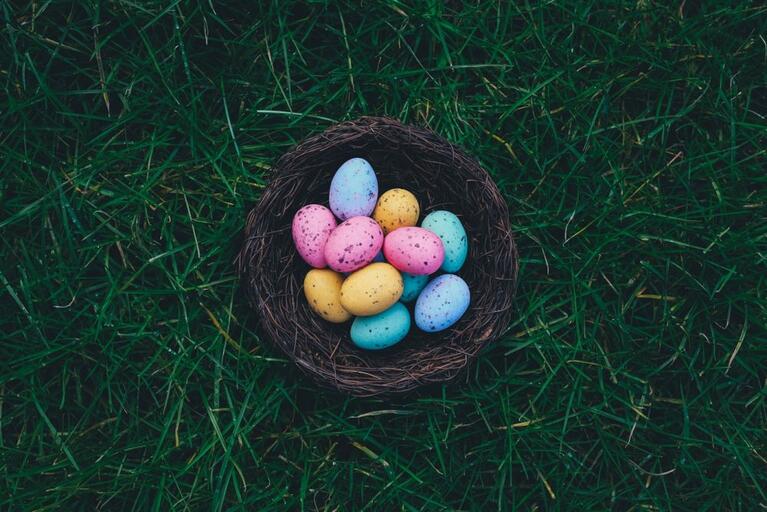 Easter Egg Hunts
How about the highest Easter egg hunt you've ever seen?
Another big part of Easter is the annual egg hunts. But, while you're often left hiding chocolates around the garden, your kids deserve better, don't they? There's only so many times they can find eggs in that bush. Instead, take it up a notch. Nearly 245 metres of notches in fact, for an egg hunt they'll never forget? Head up to The View From The Shard and discover London's highest Easter egg hunt. Over Easter weekend, London's tallest icon gets egg-static for Easter. And the whole of London plays along too. Six giant Easter eggs are placed in and around iconic London locations across the city's skyline, and all your kids need to do is spot them, and jot them down on a complimentary worksheet. Then, not only will they find out more about these significant landmarks, but they'll also have the chance to win some chocolaty prizes. Fun, chocolate, 
and 
insightful London knowledge? The perfect storm of eggcellent Easter fun. And puns. Apparently.  

There are yet more eggs to hunt
While you might not normally associate Easter with the Air Force, they're getting in on the act too. Kids will love the Animal Easter Trail at the Royal Airforce Museum. This time, though, you won't be looking for eggs. Instead, the Easter Bunny has hidden his friends all over the museum. And it's your job - or your 
kids' 
job - to find them all. Turns out the Easter Bunny is a pretty bad friend. Then, when they've found them all, they'll win a Cadbury's Easter Egg. Not bad. Tickets are £3 per child, and the trail runs from 11 am until 3 pm. And if the previously mentioned egg isn't appropriate, alternatives are available too.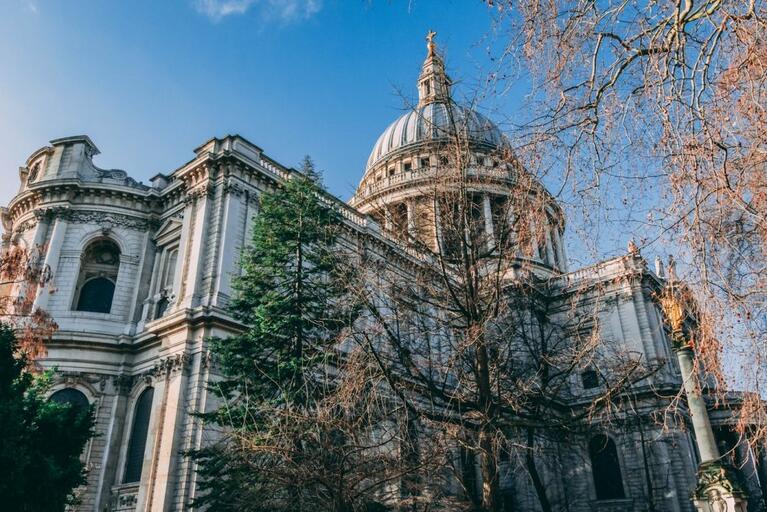 Wholesome Easter Events
Remember what Easter is really about
Of course, in all the holiday-related excitement, it can be easy to forget why we celebrate Easter in the first place. It's not all bunnies, chocolate and bank holidays, after all. So why not go and see a recreation of the original Easter story at Trafalgar Square? Wintershall's The Passion of Jesus shows the final days of Jesus' life, with over 100 actors bringing this iconic tale to life. Head down there on Good Friday, that's 10th April, to see the magic unfold. Two performances are held at noon and 3.15 pm, so even if you sleep in on your first very well deserved holiday, you'll still have time to catch it. Over 20,000 people come to see this Easter mainstay, and even if you can't get a good spot, the whole show is captured on two large screens that can be seen from pretty far away. 
A whole day of wholesome Easter celebrations
As you might expect, St Paul's Cathedral has a pretty packed Easter calendar. Every year, they have a whole host of holy offerings over the holidays, culminating in a special Sunday service on Easter Day. And thankfully, it's open to the public too. Starting at the crack of dawn, the Dawn Eucharist kicks things off at 5:45 am, followed by Holy Communion at 8 am. Then, Morning Prayer and hymns start at 10.15 am. Following this is the Sung Eucharist at 11.30 am, Evening Prayer at 3.15 pm, and a final celebration at 6 pm. So, if you're looking for something wholesome to do this Easter, go check it out.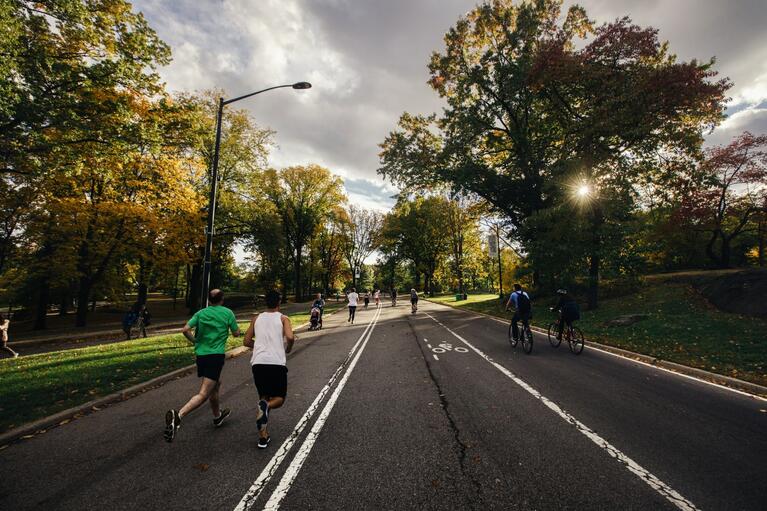 Alternative Ways To Enjoy Easter In London
Join an egg race, minus the egg
If you've had a particularly heavy Easter weekend, and want to burn off some of those added calories and 
all that shame
, go for a run. And not just 
any
 run, but a 
10k around Regent's Park
 kind of run. Now in its ninth year, Regent's Park's London Easter 10k has become a mainstay of the city's racing calendar. So, if you're feeling brave, why not enter? You don't often get to take the scenic route by default, and Regent's Park is positively brimming with lush vegetation that'll make it that much sweeter. And hey, if the big race isn't for you, there are still ways to get involved. Children can take part in an 800m race, and there's also a 2-mile fun run if you want to take it easy. Everything you need to know about all of that is 
right here
. 
Skate, dine and bowl your way to a great Easter
Or, do something completely unrelated to Easter and go ice skating in London. QUEENS Skate Dine Bowl is the capital's only all-year ice rink, so no matter the weather you're free to glide and skate and go backwards. All of the things ice skaters are known to do. And, once you're done showing off, relax with a few games of bowling, or have a few goes on the arcade machines. To top it all off, grab a sweet burger at the MEATliqour on site. 

Frequently Asked Questions
What days are public holidays over Easter in the UK?
The four-day bank holiday constitutes Good Friday, Saturday, Easter Sunday, and Easter Monday. Four days of freedom.
Are museums and other attractions open on Easter Sunday?
Generally, you can expect most attractions to be open on Easter Sunday. Certainly the ones on this list. However, if you're planning on going somewhere, it's best to check online before you set out. Just in case.
What season does Easter land on in London, and how should I dress?
Easter lands in glorious spring, so hopefully, you'll get sunshine, temperatures around the mid-teens, and sundown will be after 6 pm. However, glorious Britain is known for its...
surprising
changes in seasonal weather. April is often known for its showers, though in recent years they haven't hit as predictably. Best to check the weather ahead of time, and maybe pack an umbrella and scarf just in case.  
And that's our list of the best things to do in London over Easter. How are you planning to enjoy the break? Got anything lined up that we missed? Let us know by typing below.