Mixing culture with Halloween festivities, London's Museums at Night festival goes spooky...
While there's no denying that a trip to a museum during the day is pretty cool, how about a night at the museum? And if that doesn't sound cool enough, then what about museums – at night – during Halloween? Museums at Night is a nationwide festival of late-night events with festivities happening across the UK. These spooktacular events are sure to give you the fright of the year – if not your life – so if you're looking for something awesome to do this Halloween, look no further. Here are our hot picks for events in the capital.
Halloween Late
Friday 28 October 2016, from 6pm The National Gallery, Trafalgar Square, London WC2N 5DN Coinciding with the Beyond Caravaggio exhibition, The National Gallery is celebrating Halloween in style. With live music, special events, and plenty of themed food and drinks, the gallery will be yours to enjoy until 9pm. From a secret bar to face painting, and everything in between, it's sure to be a night to remember. A world-renowned gallery, this event is certainly up there with the best Museums at Night experiences. Plus, you get to take a selfie with a Caravaggio, so there's that too… More details can be found here.
Late Night Keats: Regency Food with Dr Annie Grey
Friday 28 October 2016, from 7pm Keats House, 10 Keats Grove, Hampstead, London NW3 2RR Ruled by elegance and cultural achievement, the Regency period is a truly fascinating time, and it's beautifully encapsulated at Keats House, home of the Romantic poet John Keats. Join in on the action this Halloween, when you'll get to sample some Regency delights with Dr. Annie Grey. Not only that but there's a glass of fizz included too, and you get to decorate your own cupcake in the legendary Mrs. Brawne's kitchen. If poetry's your thing, there's a reading taking place too, so it's sure to be a cultured and varied evening. You can book your tickets here.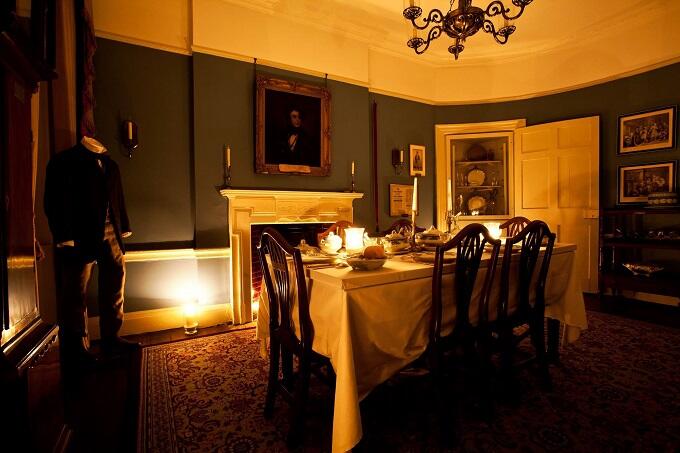 Image via Charles Dickens Museum facebook
Dickens After Dark: A Halloween Special
Friday 28 October 2016, from 6.30pm Charles Dickens Museum, 48 Doughty Street London, WC1N 2LX If you're a fan of Dickens, this may well be the one for you. You get to experience Charles Dickens' townhouse as if the author himself still lived there. Except this is with a twist, and we're not talking about Oliver here. You'll be able to fully immerse yourself in the quaint rooms, and experience the eerie atmosphere of a dimly-lit Victorian house while participating in a host of fun-filled activities. If you'd like to spend your evening rubbing shoulders with clairvoyants, along with potentially bumping into the late Dickens himself*, click here to find out more. *Unfortunately there aren't any guarantees of this happening, but after a few Gin and Tonics you never know…
Black Halloween Banquet
Friday 28 October 2016, from 7.30pm The Museum of Brands, Packaging and Advertising, 111-117 Lancaster Road, W11 1QT One for the foodies out there! These guys are hosting a splendid culinary evening as part of the Museums at Night festival, with award-winning chef Adam Rawson - Young British Foodie's Chef of the Year 2015,  rustling up a frightfully delicious meal for this Halloween special. Inspired by the iconic food brands on display in the museum and drawing heavily on the colour black, Adam's special 7-course menu is one you won't want to miss.
Craven Street Bones
Saturday 29 October 2016, from 6.30pm Benjamin Franklin House, 36 Craven Street, London WC2N 5NF During routine conservation work back in 1997 a ghastly discovery was unearthed, sparking a relentless investigation at Benjamin Franklin House. Just how did the skeletal remains of up to 10 different human beings end up buried underneath the basement floor of the house? Join historian Braena Sykes as she explores this simply fascinating tale. Find out more here. So, those are our top Museums at Night picks for an amazing Halloween! And if you're planning to dress the part, why not also head to Eaton Square, where London's US expat community put on special Halloween displays! Planning on using the London Underground to visit one or more of these Museums at Night events, then why not read our London Underground Tips to make sure that it's as seamless and comfortable a journey as possible?