Everything You Need to Know About Notting Hill Carnival, One of London's Biggest Parties While you may know Notting Hill better for its cute tea shops, antique markets and the Julia Roberts flick of the same name, there's another big reason you should head over to the neighbourhood: Notting Hill Carnival. For years, this colourful celebration of culture has been one of the biggest events in the London calendar, so you won't want to miss it. Take a read of our guide to this year's carnival, put on your brightest outfit and don't forget to bring your cameras.
What is the Notting Hill Carnival?
Notting Hill Carnival is a massive celebration led by London's Caribbean community. It's a gigantic street party that weaves its way through the Notting Hill neighbourhood and its surrounding areas. Close to a million people attend every year and it's full of incredible food, floats, dancers, live music and more – the main parade bring it all together, covering this area of West London in colour, rhythm and good vibes. It's also entirely free to attend, and you don't need a ticket.
When is Notting Hill Carnival 2019?
Notting Hill Carnival is a two day affair this year, held over the bank holiday weekend from August 25th to Monday 26th. The parade itself is held on both days and kicks off with a traditional carnival opening at 6am. The main parade gets going about 9.30am on both days, while a Children's Parade is a highlight of the Sunday.
Where is Notting Hill Carnival?
Although the name of the event is a major hint as to its location, the carnival actually spills out across the neighbouring areas of Ladbroke Grove and Westbourne Park. If you're heading there specifically for the carnival, it starts off on Great Western Road and sashays its way down into Ladbroke Grove.
Things to do at Notting Hill Carnival
The parade should be a priority for any first-time carnival goer, as the number of rainbow floats, energetic dancers and the intoxicating stream of music makes for a totally infectious, joyful atmosphere. Beyond that, there's always a number of fantastic street stalls selling Caribbean food, people breaking out into spontaneous song and dance, and range of contrasting cultural performances all day Sunday and Monday. This year's highlights include a steel band competition and live music on Emslie Horniman's Pleasance Park and Powis Square. Really, the neighbourhood's your oyster.
Getting to the Notting Hill Carnival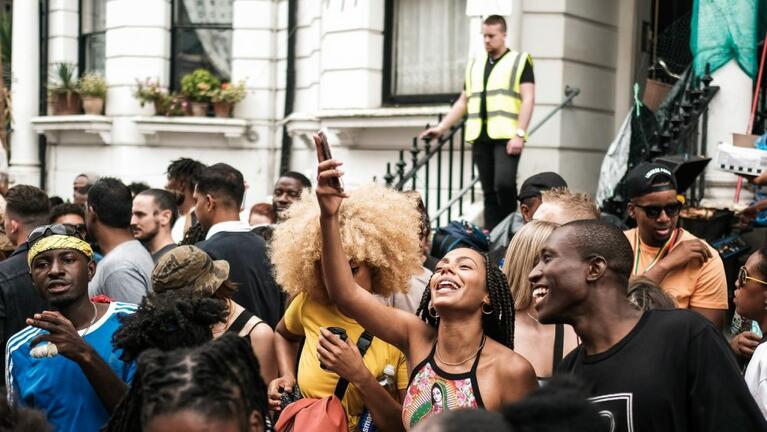 We'd advise steering clear of Notting Hill Gate station unless you plan on getting there super early. Hop on the London Underground to the edges of the carnival and walk towards the parade – the best options would be Bayswater, High Street Kensington, Holland Park or Queen's Park. Due to road disruptions and closures, buses are likely to encounter traffic or diversions.
Tips for Notting Hill Carnival
Sunday tends to be quieter than Monday (when the main celebrations are), so it's a better option for young families and those who don't like crowds so much.
The portaloos are grim, so bring tissue and be prepared for long queues.
If you have food allergies, it's best to err on the side of caution and bring your own food.
It's going to be loud. Really loud. Like vuvuzela loud. Bring earplugs to dampen the sound if you need them.
A lot of transport is going to be diverted on the day because of the carnival, so keep an eye on the Transport For London website (https://tfl.gov.uk/) for up-to-date station closures and notices.
The Parties
As it's a Bank Holiday weekend, there will be plenty happening around the city from 24th - 26th August. From warm-up bashes to afterparties, there's plenty going on for those who want to keep the party going.
Scandalous Saturday - "Rep Your Flag!" at 229 The Venue, Sat 24th
A high energy pre-party for those who can't wait, this party gets you into the carnival spirit with Caribbean rhythms, live dancers and a suggested dress code encouraging you to be colourful and bring the flag of your country or island.
The Official Carnival After Party 2019 at Ministry of Sound, Monday 26th
Keeping the party going until 5am on Tuesday morning, expect to hear House, Garage, Carnival Vibes and Afrobeats at this London mega-club.
Pop Brixton, Sunday 25th
More relaxed but still filled with revellers, this after-party takes place across the whole Pop Brixton complex of bars, restaurants and shops. They'll be playing dancehall, soca and reggae…and it's free.   Looking for other stuff to do in London this summer. Well, look
no further
.