Bonfire night is a special time of year around the UK, especially in London. Read on to find out fascinating facts about this iconic date and the man behind it.
Remember, remember, the 5th of November... So starts a poem that resonates around many a school here in the UK. But why is the 5th of November so important and so iconic? And who on earth is this Guy Fawkes chap? You've no doubt seen the mask, but how did it all start, and what are these celebrations about? Discover more with these fascinating facts about Bonfire Night and Guy Fawkes...
Guy Fawkes was born on the 13

 

April 1570. Ruling at this time was the Tudor dynasty; more precisely, King Henry VIII. Born a Protestant, at the ripe old age of 16, Guy converted to Catholicism, which was considered a troubling religion at the time.
Fighting on the side of Catholic Spain, he became involved in conflict abroad, where he picked up the nickname Guido. This conflict was known as the '80 Years War'. When Guy was arrested in London, he was forced to sign a document confirming his identity. He initially refused, but after torture, he buckled and signed. Interestingly, he signed with his acquired name, Guido.
Bonfire night essentially celebrates the foiling of a plot by Guy Fawkes and his fellow conspirators to blow up the Houses of Parliament in London. We celebrate this by burning an effigy of Guy and launching a whole bunch of fireworks into the sky in a spectacular display. Some would argue that there's little better than looking out over London and watching the copious fireworks displays light up the night sky.
Guy Fawkes wasn't hung, drawn and quartered, as was the fate awaiting him. Instead, Guy actually committed suicide in order to escape this extremely grizzly end. Following his untimely death, his body was subsequently quartered, and spread to the corners of the country. This was to serve as a deterrent for any would-be perpetrators.
36 barrels of gunpowder were used during the plot – which some argue would have been plenty to blow up Parliament at the time – but others claim that the gunpowder was too old and wouldn't have exploded as expected if it had been ignited.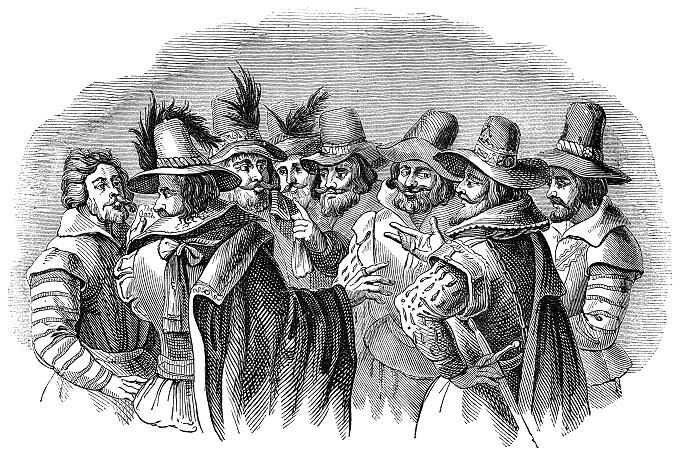 At Bonfire Night, it isn't just fireworks that light up the evening, we also use copious amounts of sparklers. Sparklers can be five times hotter than cooking oil, and rocket fireworks have been known to reach speeds of up to 150mph. That's impressive!
Up until 1959 – yes, 1959 – it was illegal to not celebrate Bonfire Night in Britain. However, there was a school in York (coincidentally the school that Guy himself attended) that was an exception to the law. To this day, they still, perhaps rightly so, refuse to burn this effigy that's representative of one of their former pupils. No headmaster is that cruel, right?
It's alleged that the first meeting between the conspirators was in the Duck and Drake pub in the Strand, so it probably started as one of those discussions you have with your friends whereby you claim you're going to go for it, and you're going to make that big bold move. Except these guys didn't wake up the next day with 'the fear' and they actually followed through – well, almost - with their plan.
Other traditions around Bonfire Night include Penny for the Guy and apple bobbing, which are great fun and truly encapsulate a family and fun-loving spirit. If you don't know what Penny for the Guy is, think trick-or-treat, but with a home-made Guy doll for company. Those pesky kids won't give up in their pursuit for that hard-earned cash!
Guy Fawkes was arrested while he was guarding the explosive barrels planted under Parliament, and he was tortured until he gave up the names of his fellow conspirators, along with finally offering up his real name, as we know. Well Guy, ahem, Guido, you got caught in the end, and the potentially nation-changing event was avoided. Just.
Whatever you get up to, Bonfire Night is full of rich history, celebrations and it's fun for all the family. Whether you're heading to one of the many public events, or if you're planning to celebrate with friends, it's a truly magical time to come and visit London. Did we miss your favourite Bonfire Night or Guy Fawkes facts? Let us know in the comments!