London Bridge and Tower Bridge - both iconic bridges in the capital city of London, but do you know which is which? There's only a 13-minute walk between them, but the history and design are wildly different. We'll look at their differences and similarities, as well as what there is to see and do at each location.
The History of Tower Bridge
Designed by Sir Horace Jones and John Wolfe Barry, it opened to the public in 1894. Tower Bridge is one of the most instantly recognizable attractions in London, although it was never meant to stand out. It was specifically designed to blend in with the surroundings, like the Tower of London. While it does, it's still an iconic landmark.
The original concept was for Tower Bridge to function as a drawbridge, with pulleys lifting the bridge to allow boats to pass. This proved to be too much for the towers to handle, so they built Tower Bridge as a Bascule Bridge. Bascule translates to 'Seesaw', which is how the two sides of the road now open.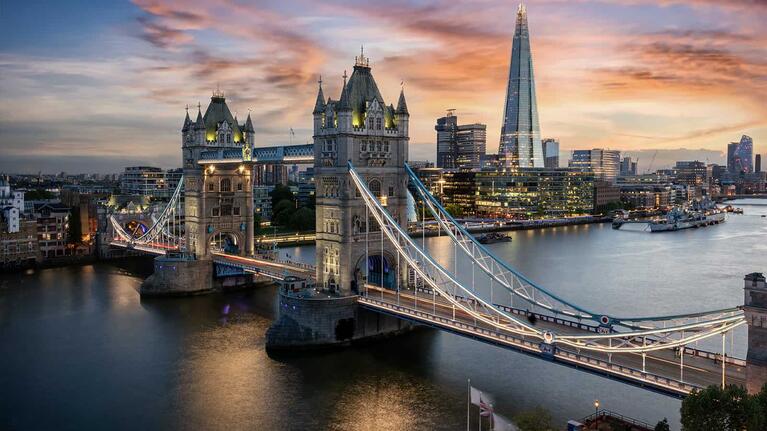 The History of the London Bridge
Contrary to the nursery rhyme, London Bridge has never actually fallen down. Ice, fire, and Vikings have damaged it, but it's never technically fallen down.
London Bridge, in one form or another, has stood for nearly 2000 years, with the first construction being erected by the Romans in 43AD. It started life as a pontoon bridge, with wooden planks over anchored boats, before evolving to a wooden construction and finally stone.   
The appearance has transformed significantly over the years, at one time looking like a mini city; full of wooden shops, houses, and industry. Sadly, these wooden structures, coupled with human negligence, led to several fires and the ultimate decision to clear the bridge of all but traffic.

Where is the London Bridge and the Tower Bridge?
Both bridges cross the river Thames and are within walking distance. They're also both free for pedestrians to cross.
If you're visiting Tower Bridge, the nearest tube is Tower Hill station. 
The nearest underground station to London Bridge is London Bridge station; easy to remember.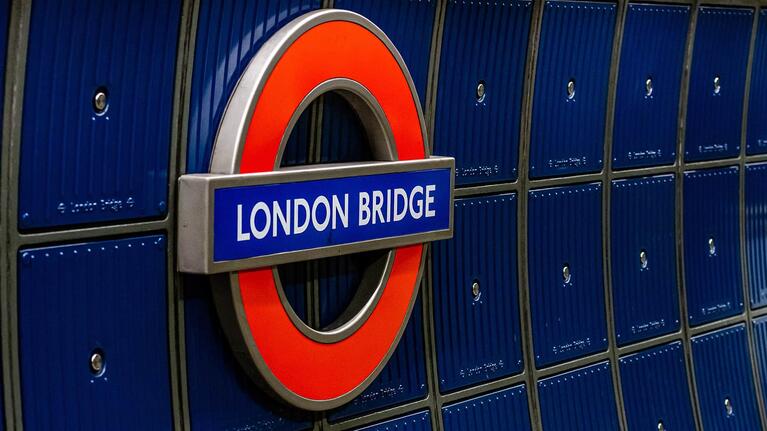 To walk between the two takes around 13 minutes, in a straight line down The Queen's Walk. It's a fun walk, passing Potter's Fields Park and the HMS Belfast floating museum, plus many street performers and entertainers. Carry on further and you'll have beautiful views of the London Eye, Millennium Bridge, and a view of Parliament across the water.
What to do at London Bridge?
While not as photogenic as Tower Bridge, London bridge is still worth snapping. There are no towers or elevation, so you'll have to go to the banks of the Thames river for a great shot.
What London Bridge lacks in visual appeal, it makes up for in history and intrigue. The London Bridge Experience is an interactive journey through London's dark, grim history.
With 2000 years of history to explore, you'll discover how the Romans, the Great Fire of London, and Jack the Ripper all share a history with the bridge.
If you've got the nerves, head deep down into the lower vaults of London Bridge and experience The Vaults; a scare maze using actors, special effects, and interactive sets to offer a bone-chilling scarefest. Fear not, for the feint hearted there's a child-friendly version that is still informative yet leaves out the nightmares.
Nearby to London Bridge you'll find The Shard, Tate Modern, and Borough Market.
What to do at London Tower Bridge?
Obviously, you'll want a selfie or three with Tower Bridge as your backdrop. If you want to know the best place to photograph Tower Bridge, head to either the Tower of London on the north bank, or Potters Fields Park on the south bank. Both offer excellent views of Tower Bridge for you to get an insta-classic shot.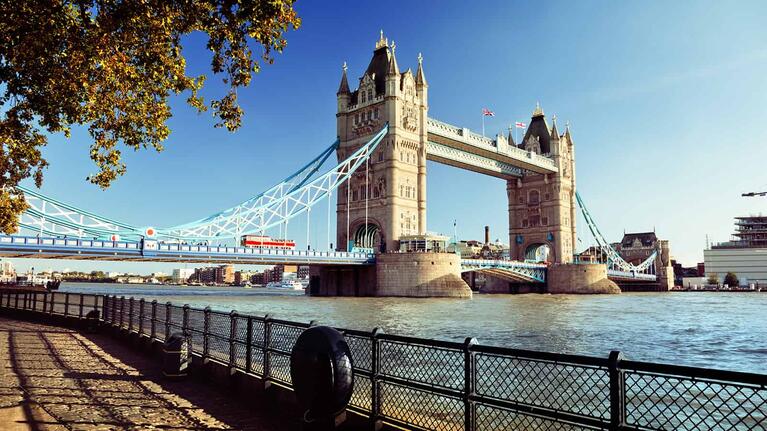 Did you know you can climb the bridge towers? The view from the top, 138ft above the river, is spectacular. A tour of Tower Bridge isn't just a pretty view though. Head inside what thousands of people idly walk past each day for an unforgettable trip through London's history.
With multi-sensory exhibitions, displays, and a trip deep into the engine room, you'll learn all about the resident stables, mortuary, and special events which have secured Tower Bridge as London's defining landmark. 
Nearby you'll find The Tower of London, another key historical site and a must-see attraction.
Don't Mix Up London Bridge and Tower Bridge
London Bridge and Tower Bridge look very different, yet both are famous bridges in their own right, and both are must-see attractions in the city. Both bridges are free to walk across, and they're both in great locations surrounded by other amazing attractions.
London Bridge might be famous in nursery rhymes, but it's much less impressive than Tower Bridge. Built in 1973, it's a functional bridge for cars and pedestrians. It's only about a 10-minute walk from Tower Bridge, but they're worlds apart in terms of looks and cool stuff to do. So if you're wondering which one to visit, make it easy on yourself and pick Tower Bridge. It's got the looks and the wow factor!
The high-level walkways at Tower Bridge, including the glass walkway, afford incredible panoramic views of the city. Alongside ground-level shots of the iconic towers, you'll also walk away with unique photos of the Tower of London, HMS Belfast, St Paul's Cathedral, the Millennium Bridge, and so much more.
London Bridge is another brilliant spot to get a pic of Tower Bridge, but it's also photographic in its own way. The true magic of London Bridge, however, comes from its long, dark history. 
If you're looking for more ideas for your London adventure, check out our other itineraries. We cover one day in London, a weekend getaway, and a three-day itinerary, which should cover all bases.