London is pleasantly peppered with lush green spaces to unwind and forget the hubbub of the city. Some have ponds, some have lakes; some have manicured gardens and others are home to wild beasts...
Look no further, then, for the list of our favourite London deer parks, including:
One with a one-way glass viewing window
One where it's probably harder not to see deer than it is to see them
And a few tips on how to keep you and the deer safe during your visit
There's something pretty special about spotting deer in London parks. They are majestic animals, the way they run, feed, even the way they fight one another, antlers locking in one-on-one battles during the rutting season of September to November.
But seeing them in London parks is just that little bit more special because you know that a few hundred metres away, in any direction, is a bookies, a block of flats or a fast food takeaway. And yet still, right in front of you, are these wild animals.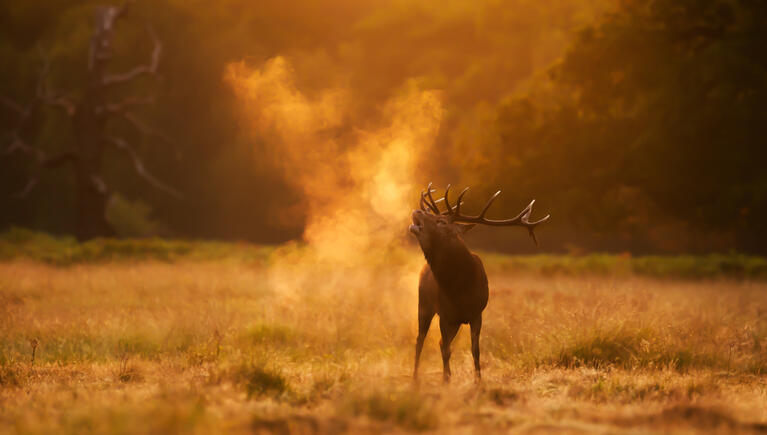 It doesn't matter how many times you see them, living their peaceful, untamed lives in the relative wilderness of London's deerest of deer parks, it still comes as a pleasant surprise to be face to face with these four-legged Londoners. And they are Londoners. They've been living in London parks for centuries now and they're not going anywhere any time soon.
But to see one in London's parks is still special. To be walking along and suddenly lock eyes with one…it makes you think about coexistence, about how we all share this land and how maybe it's really more the deer's home than it is mine after all when you think about it. When you lock eyes with a deer and it seems to say, 'You are welcome here, dear traveler. You are welcome here in this, one of the best London deer parks. Go freely. But please…this grass is my grass…and if I see you eating any of it there'll be hell to pay.'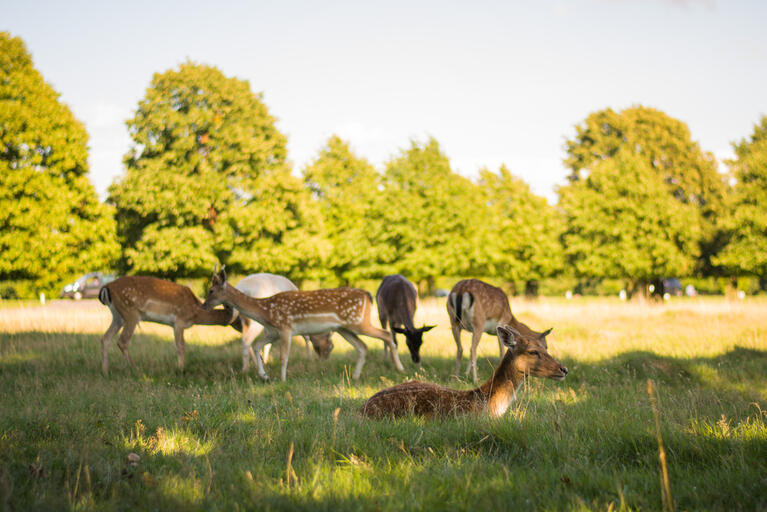 Greenwich Park
Enclosed in 1433, this is the oldest of the Royal Parks to contain deer. It's thought that Henry VIII greatly increased the numbers kept here from around 1515 so that he could go out on hunting jollies. You'll hear plenty more about venison virtuoso Henry as this article progresses. It seems that we have the notorious monarch's love of hunting the poor things to thank for the presence of deer in London.
In the last century, the amount of land accessible to the deer has been curtailed as the park's popularity has soared and it became unsafe for deer and humans alike. The two small herds of Red and Fallow deer now live in the designated Deer park, known as The Wilderness. Take a stroll along the designated paths to reach special viewpoints where you'll see the two herds roaming freely.
Created in 2002, the Secret Garden Wildlife Centre features a number of educational materials and information, as well as a one-way glass window. This lets you view the deer from up close, and they don't know they're being watched. It is up to you to work out which one's lying.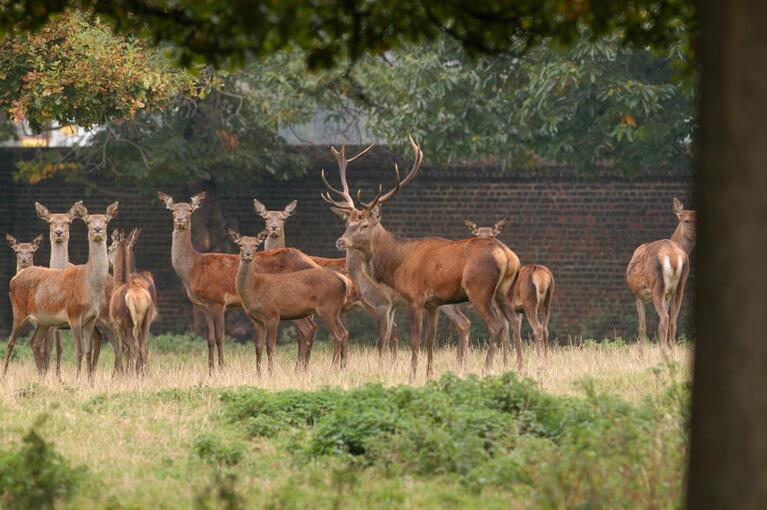 Bushy Park
Right next to Hampton Court Palace, Bushy Park was another one of Henry VIII's favourite hunting grounds. Deer were introduced here for the King's entertainment, but the ancestors of those who managed to escape the pursuing Henry now roam freely. The herds of Red and Fallow deer number about 320 in total these days.
You'll spot them all across the 1,099 acres of Bushy Park, except in protected areas, such as the Woodland Gardens. With its mix of waterways and grassland, the park is also a great place for birdwatching. See if you can spot a woodpecker, a kingfisher, or even a kestrel during your visit.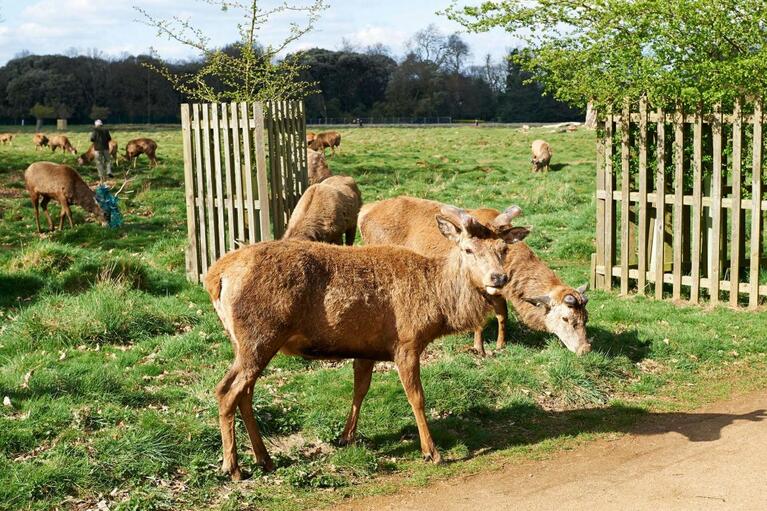 Richmond Park
Richmond Park is big and beautiful. It's a National Nature Reserve and, at 2,500 acres, it's the biggest park in London. It's also got by far the largest deer population, with around 650 residents across the entire park.
We're not handing out prizes, but this is our favourite London deer park. And it is the favourite of most Londoners too. It's another former Royal hunting ground, but it has nothing to do with Henry VIII. The landscape is varied and wild, with open grasslands and densely wooded areas to explore and enjoy getting lost in.
Consider renting a bike from the facility at Roehampton Gate to get a speedier perspective on the great expanse. Stick clear of the deer when you're on two wheels though, obviously. If you want to see the park in a special light, come at dawn. The colours of the deer and the vegetation in the warm glow of the new sun. It's worth getting out of bed for.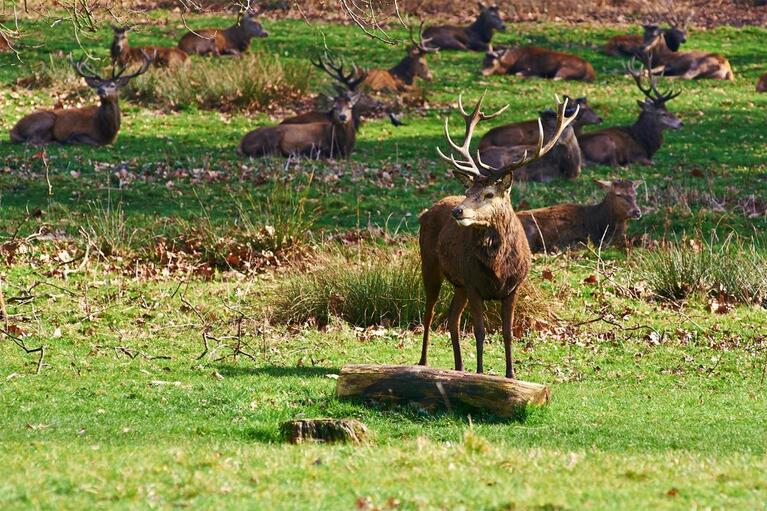 Clissold Park
The young pretender to the Royal Parks, Clissold Park has a small herd of Fallow deer to add to the London deer park collection. Deer were originally introduced to the park in 1890, a year after it opened to the public. It's a small herd with just one buck and six does.
The first deer to be released here were Red deer but, as the population grew, these were given away to other London parks. So now Clissold Park has only Fallow deer in its enclosure. As a deer park, it's not on the same level as Richmond and the others, but the enclosure here is a lovely addition to what is already a charming London park.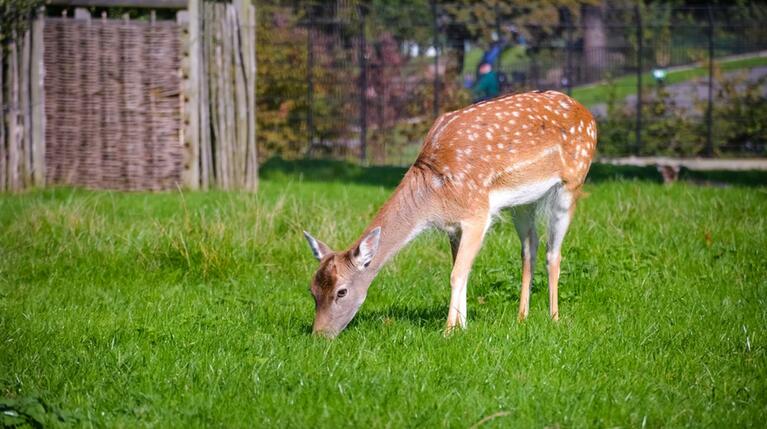 Top Tips for Keeping You and the Deer Safe
Put all your litter in the bin. Deer try to eat packaging and other rubbish that has been left in the parks and this is potentially fatal for them. Don't feed the deer. They don't need or want your help. Don't touch the deer. They're doing just fine. It can be dangerous to get too close to deer, particularly between May and July when the females are nursing their young, and in September, October and November, when the males rut.
Keep at least 50 metres from the deer. You can still get a great photo from this distance. Red deer are the big red ones. Fallow deer are smaller and have white spots on their back. Neither looks like Bambi. Bambi (the film one, not the book one) is a roe deer. If you see an unattended young deer, don't approach or pick it up. Mothers often leave them alone for a bit, but they are not abandoned. Touching them could let to them being neglected by their mums.
Keep dogs on leads when you are close to deer. You can be prosecuted if your dog chases the deer.    

It seems as though you're on a quintessentially British tip today. So perhaps you'd like some refreshment... And of course, make sure to pick up a London Pass® to make the most of everything the Big Smoke has to offer.