When the sun goes down, London comes to life. Check out our guide of things to do in London at night.
Museum Lates
View from the Shard
Theatreland
Dine out
See a film
Ceremony of keys
Night cruise
The Late Debate
The London Eye
And more...
London is a city of night owls. And rightfully so. The city streets, the crowds and its bridges illuminated in the evening is something you have to see to believe, especially in the summer months.
A 24-hour tube service operating at weekends on some major lines and night buses all week makes travelling around London after dusk is pretty easy. But where to go?
Explore the many fun things to do in London at night – from sleepovers in museums to spectacular views from iconic buildings. This handy guide has your back.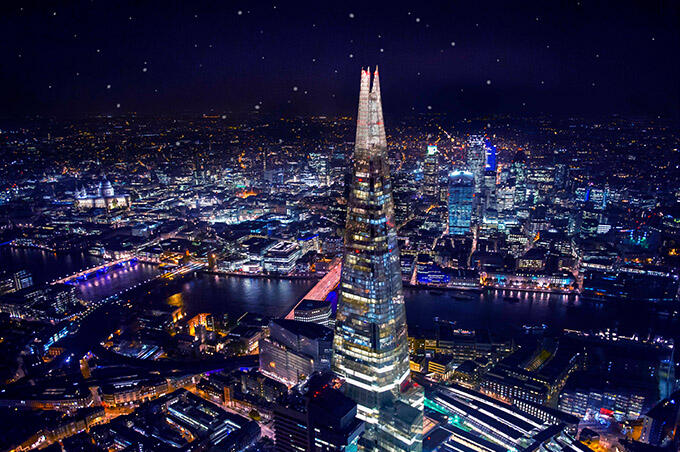 1. Museum Lates
Many of London's most famous museums and galleries are open late on selected days, including the British Museum, Science Museum, Tate Modern, National Gallery and London Transport Museum. Often busy during the day, these spaces are quieter in the evening, allowing you to take your time and explore them at your leisure.
And, if you can't quite bear to leave, why not have a good, old-fashioned sleepover (who says kids should have all the fun?). Dino Snores at the Natural History Museum allows you to roam free, just like a dinosaur, taking in the galleries and temporary exhibits. It also offers a 3-course feast, live music, movie marathon, science shows, comedy and drinks... and insect tasting! It's a uniquely entertaining experience.
2. View from The Shard
Standing 95 storeys and 310 metres to the tip, The Shard is the tallest building in the whole of Europe. Experience some of the best views of London from the open-air sky deck and you will see a glittering landscape of lights at night. There are restaurants and shops spread throughout the floors. And, this may sound strange, but don't forget to use the toilet. The restrooms are 244 metres above London. With floor-to-ceiling aerial views, trust us when we say they're the most spectacular toilets in London.
3. Theatreland
Head over to London's West End, also known as Theatreland, for an evening performance. With a huge variety of plays, musicals, cabarets and more, there is something for everyone.
The Soho Theatre is known for its late performances running up to 12AM – a perfect after-dinner treat.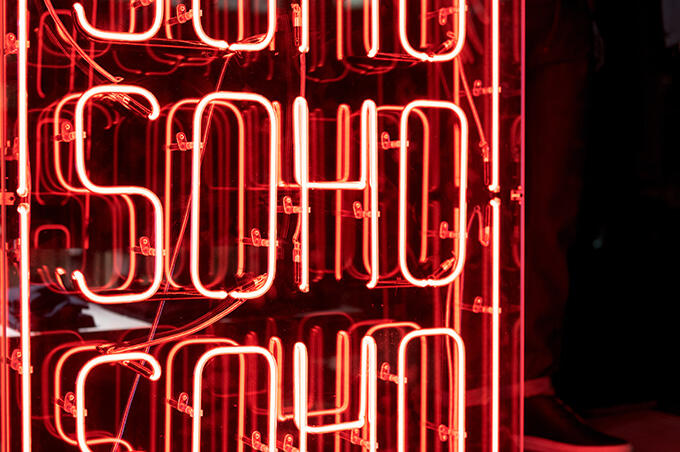 4. Time to Eat 
As the sun sets and your stomach starts to complain, check out some of London's quirkiest restaurants. Renowned for its huge diversity of food, the city never fails to deliver for dinner ideas. If you're feeling fancy, have a James Bond-esque evening at Park Chinois, a 1930s-style Shanghai lounge in Mayfair.
Or, if you want to channel your inner Peaky Blinder, Bistro Union allows you to experience British food at its best. Sample traditional dishes including Lancashire hot pot, toad in the hole and a fabulous fish pie.
With thousands of eateries to choose from, there is the perfect place for every taste and budget.
5. Movie Night
We get it. We're the same. After a busy day of sightseeing, sometimes all you want to do is sit down and watch a film. Curzon cinemas are dotted throughout London, some with spacious seating and licensed bars. Ideal for a relaxing night with the family or a romantic evening with your partner.
With their quirky yet plush interiors, these cinemas are perfect for taking the weight off your feet. Our favourites are the Soho, Mayfair and Bloomsbury branches.
6. The Ceremony of the Keys
This nightly event is so painfully British, we wouldn't be surprised if someone popped up and slapped fish and chips into your palm as you watched proceedings.
This historical evening activity that's fun for all the family can be found at the Tower of London. The famous Ceremony of the Keys is part of the process of locking the Tower up for the night. A centuries-old tradition, it involves secret passwords, large rings of keys, Beefeaters and military music. Advance booking is required.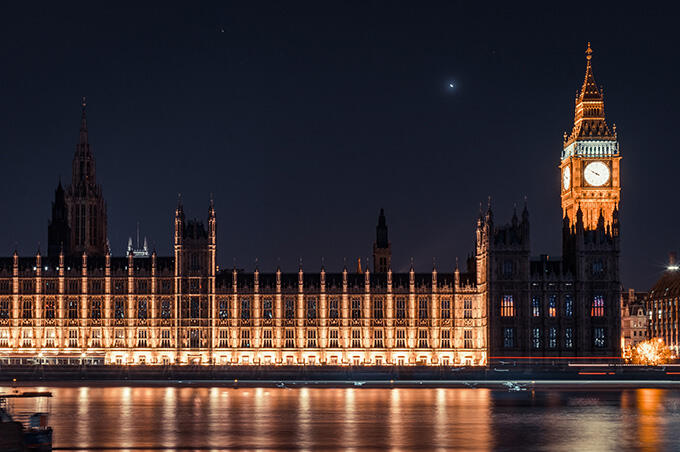 7. The Late Debate
Why not head over to the Houses of Parliament and listen in to a debate? The politicians often end up working late, so take a seat in the public gallery and get ready for some serious mental acrobatics. Entry is free.
8. Ride the London Eye
From its central vantage point, the London Eye allows you to take in the city's most iconic sights. Too busy during the day? Check out the London Eye website, as the closing time varies depending on the date. A ride at sunset can be magical.
9. Night tours
Trace the Ripper's very steps. Solve the century-old mystery of who he really was. Full disclosure, the chances of you doing this are are pretty low, but hey, if you're a fan of ambient 'spookums', you'll love this regardless. Take this unique night-time tour through the eerie backstreets and secret alleyways of East London.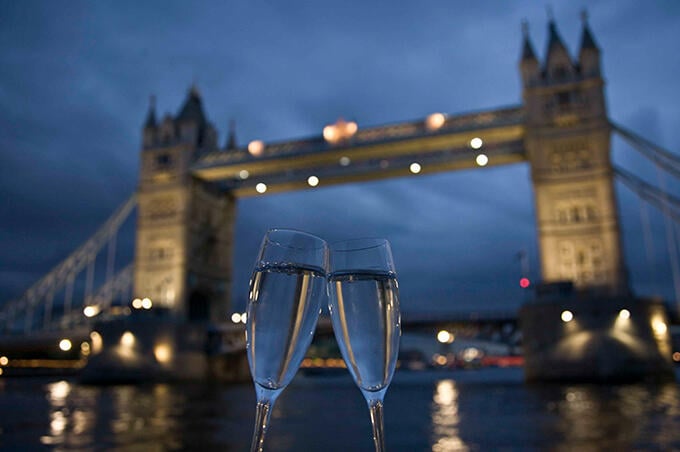 10. Wine and Dine on the Thames
Fancy cruising down the River Thames with a glass of champagne in hand? Enjoy a night cruise on London's famous river, with a four-course meal, jazz and an iconic skyline. Glide past some of the world's most striking buildings including St Paul's Cathedral, the Shard, Big Ben, the Tower of London and Tower Bridge.
11. Late Night Shopping
Were you being such a cultural vulture that you forgot to get your shopping fix? Fear not, lots of shops are open late Monday to Saturday. Shopping 'cities' such as Westfield Stratford and Westfield White City are open until 9PM.
On Thursday nights, London's famous Oxford Street also stays open until 9PM at night, so get make sure you wallet is fit to burst and at the ready.
12. Proper British Boozers
Need a drink after a long day of walking and eating? London is overflowing with a variety of different bars and pubs. From cosy cocktail bars to bustling traditional pubs, the choice is yours. If you're a solo traveller looking to meet some new people, sign up to a pub crawl to experience a few more of London's finest pubs.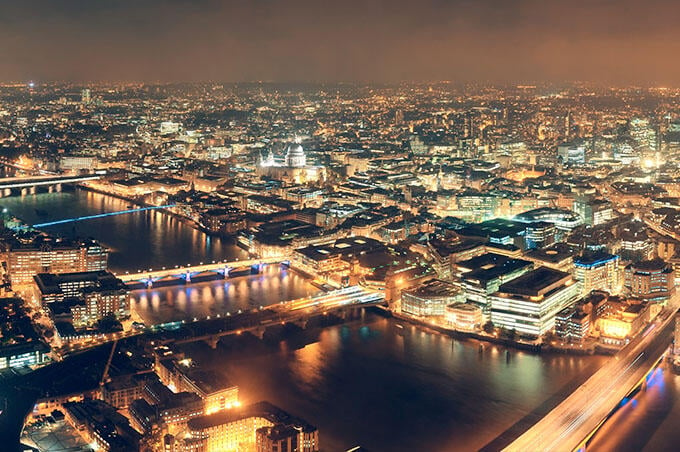 13. Nightlife
If you want to have a boogie, London is full of funky night clubs that are open until the early hours, providing a range of music genres and experiences. Head over to Shoreditch for late night bars and clubs, or check out Camden for live music venues such as the intimate Spiritual Bar or Electric Ballroom.
If you're a music lover, London at night is where it's at, with acts on every night and cheap club nights every day of the week.
14. Giggle at a Comedy Club
If you're looking for a laugh, there are loads of great comedy clubs throughout London that offer free comedy nights all week. Head over to The Top Secret Comedy Club on Drury Lane to see some of the latest comedians strutting their stuff on stage, as well .
15. See the Lights at Piccadilly Circus
If you're enjoying an evening stroll, head in the direction of Piccadilly Circus to see the beautiful light display in the evening. Over 100 years ago, Piccadilly Circus hosted the first display of electric lighting and it now attracts over 100 million visitors a year.
London has endless fun things to do at night, from walking tours to cosy pubs and much, much more. Where will you go in London for an evening out?
 
There you have it, 15 ways to enjoy a night in London once the sun goes down. Pick up a London Pass® and make the most of exploring this great city. You'll make awesome savings vs paying at the gate.