Learn Some Amazing Facts About Who's Buried in Westminster Abbey.
Although Westminster Abbey may be better associated with royal weddings and coronations, the country's most iconic cathedral is also the final resting place of thousands of influential people, from monarchs and consorts to poets, scientists and politicians.
Get a true sense of history when you visit some of the most famous Westminster Abbey tombs. But before you go, find out who's buried in Westminster Abbey, right here. From kings to nameless soldiers, this list includes:
Edward the Confessor
Anne of Cleves
Sir Isaac Newton
And more...
Edward the Confessor
Edward the Confessor was one of the last Anglo-Saxon kings of England who was responsible for the building of Westminster Abbey, during his reign from 1042 - 1066. After a turbulent childhood when England was the target of Viking raids and invasions, Edward spent 25 years in exile, until he was received as king. He was the first Anglo-Saxon and only king of England to be canonised, in 1161. From Edward the Confessor until George II, most Kings and Queens had a Westminster Abbey burial.
Edward V
Despite being named King of England upon his father's death, 12-year-old Edward V wasn't crowned, and only reigned for 86 days before his uncle Richard III seized the throne and sent him and his brother to the Tower of London. They would forever be remembered as "The Princes in the Tower" after disappearing in 1483. Their fate remains unknown but it is widely believed that they were murdered on the orders of Richard II.
In 1674, children's bones were discovered in a stairway of the Tower and King Charles II placed them in Westminster Abbey, however, it's never been proven the bones belonged to the princes.
Anne of Cleves
The unfortunate 4th wife of Henry VIII, Anne of Cleves and Henry were only married for 6 months before the marriage was annulled. Originally from Dusseldorf, she was brought over for the wedding in 1540 but Henry wasn't taken with her. After the marriage was annulled, she was referred to as "the King's Beloved Sister" and ended up outliving all of Henry VIII's other wives, dying in 1557. She is the only wife of Henry VIII to be buried in the Abbey.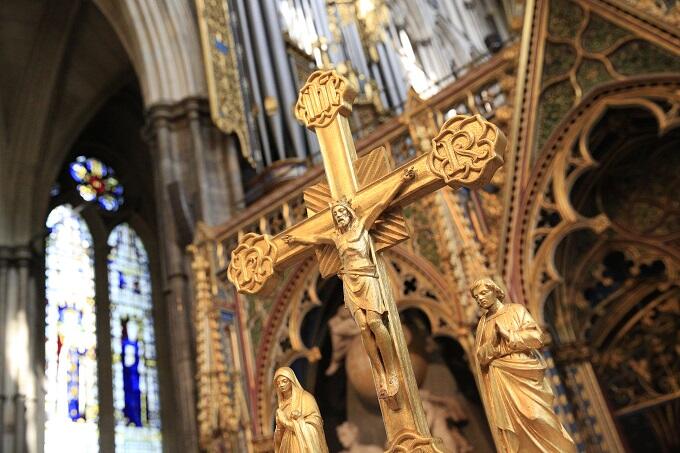 Elizabeth I One of the most famous Westminster Abbey burials, Elizabeth I was the daughter of Henry VIII and Anne Boleyn. Her reign, known as the Elizabethan era is famous for a golden age of poetry, drama and music as well as exploration and colonising the new world, with playwrights such as Shakespeare and Christopher Marlowe leading the creative charge and explorers such as Francis Drake and Walter Raleigh navigating the seas. She never married nor had children and died after 44 years on the throne in 1603. She shares her grave with half-sister Mary I. 
You may be asking, 'Where is Henry VIII buried?" 
Henry VIII, the famously controversial English king, is buried in St. George's Chapel at Windsor Castle. He was responsible for sweeping religious and political changes during his tenure. He is buried next to Jane Seymour, his third wife, who gave him a son, Edward VI. Their burial spot is quite detailed and regal, making clear how instrumental a role he played in English history. You can learn more about him in this blog post titled: Amazing Historical Facts About Henry VIII
More Notables Buried in the Westminster Abbey Tombs
Sir Isaac Newton
Considered one of the most influential scientists of all time, Sir Isaac Newton was a physicist and mathematician known for his work on the laws of motion, gravitation, classical mechanics, calculus, planetary motion, optics and more. Among other accolades, he was made President of the Royal Society and was knighted by Queen Anne in 1705 and died in his sleep in 1727.
Sir Charles Barry
You'd be excused for not knowing this guy - an English architect in the 19th century, Sir Charles Barry is most well known for the rebuilding of the Palace of Westminster (Houses of Parliament). You'll also see his work in Trafalgar Square and Highclere Castle, which served as the location of TV show, Downton Abbey. He is one of the lesser known figures found when the Westminster Abby Tombs were opened.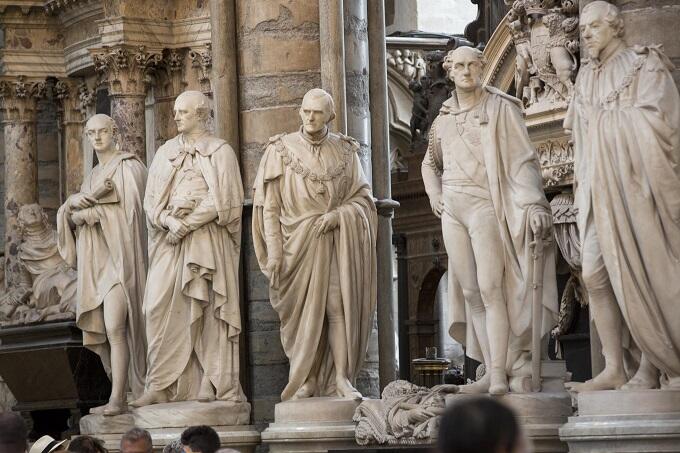 Charles Darwin
A naturalist and geologist, Darwin is probably best known for his contribution to the science of evolution and publication of "On the Origin of Species" where he introduced the process of natural selection.
David Livingstone
Best known for his exploration of Africa and infamous meeting with Henry Morton Stanley that introduced the quote "Dr. Livingstone, I presume?", David Livingstone was an explorer, missionary and one of Victorian Britain's most prolific individuals. Coming from a working-class background, he not only discovered the sources of the River Nile but also crusaded for the abolition of slavery. He died in 1873 in Zambia, which is where his heart is buried.
Charles Dickens
One of the most famous English writers with books such as "A Christmas Carol" ,"David Copperfield", "Great Expectations", "Oliver Twist" and "A Tale of Two Cities", Charles Dickens synonymous with the Victorian era. During his lifetime, he wrote novels, novellas, short stories, articles, lectured and campaigned for education and children's rights.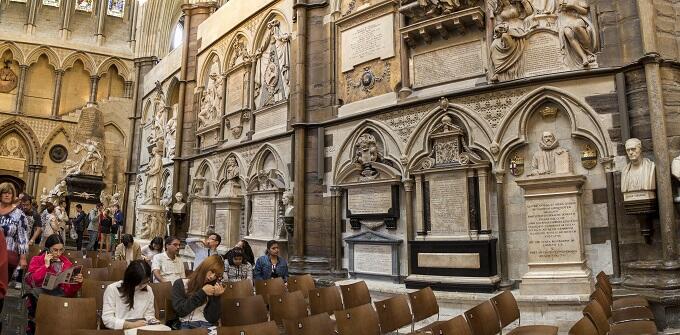 Dr. Samuel Johnson
Best known for his "A Dictionary of the English Language" published in 1755 after 9 years of work, Dr. Samuel Johnson was one of the most influential writers of the 18th century. His book was viewed as the predominant British dictionary until the introduction of the "Oxford English Dictionary" 150 years later.
Geoffrey Chaucer
That's right, the father of English literature was the first poet to be buried in Westminster Abbey, in what is now referred to as "Poet's Corner". Anyone who studied English literature in secondary school and beyond will be familiar with his use of Middle English in works such as "The Book of The Duchess", "The Legend of Good Women" and most famously "The Canterbury Tales".
Rudyard Kipling
Another literary icon buried in Poet's Corner is "Jungle Books" author Rudyard Kipling. Born in British India, Rudyard is one of the main innovators of short stories and his children's books are classics to this day with well-known titles such as "Just So Stories for Little Children" and "Kim".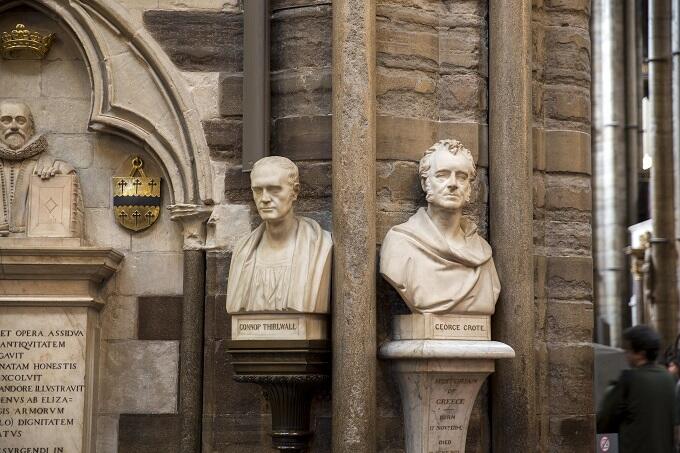 Laurence Olivier
Perhaps one of the world's most famous actors, Laurence Olivier dominated the British stage of the mid-20th century and played over 50 cinema roles. He worked closely with Noel Coward and Ralph Richardson. He was co-director of the Old Vic theatre. He directed and starred opposite Marilyn Monroe in " The Prince and the Showgirl" and was married to actress Vivien Leigh for 20 years.
During his lifetime, he received a knighthood, a life peerage and the Order of Merit as well as copious acting awards including four Academy Awards. The National Theatre's largest auditorium was named in his honour and he is commemorated every year in the Laurence Olivier Awards. A true acting legend.
Aphra Behn
Virginia Woolf once wrote "All women together ought to let flowers fall upon the tomb of Aphra Behn... in Westminster Abbey... it was she who earned them the right to speak their minds". You may not have ever heard of her, but Aphra was a British playwright, poet and translator during the 17th century. She was one of the first English women to earn a living from writing and became a female role model by breaking these cultural barriers. And not only that, she was also employed by Charles II as a spy!
The Unknown Warrior
The burial of an unidentified British soldier killed during WWI is the first example of a Tomb of the Unknown Soldier. He represents the thousands of individuals who died during the war. Six bodies were exhumed from various battlefields. They were placed in unmarked coffins before one was selected for burial in Westminster Abbey. Although there are many graves on the floors of the church, this is the only one you're not allowed to walk on.
Westminster Abbey Burials FAQs
Q. Who are some of the most notable figures buried in the tombs of Westminster Abbey?
A. Westminster Abbey is the last abode of many British monarchs, including Edward the Confessor and Elizabeth I, as well as well known figures such as Sir Isaac Newton and Charles Dickens.
Q. Is Westminster Abbey reserved for British royalty and aristocrats?
A. No, while many royals and aristocrats are found there, Westminster Abbey also houses the grave sites of poets, scientists, & other significant figures from various disciplines.
Q. Are there any U.S. Presidents buried in Westminster Abbey?
A. No, there are no U.S. Presidents buried in Westminster Abbey; it primarily commemorates British figures and a few notable individuals from foreign soil.
Q. What is the significance of the Poets' Corner in Westminster Abbey?
A. The Poets' Corner is a special section of Westminster Abbey dedicated to poets, playwrights, and writers, including Geoffrey Chaucer, T.S. Eliot, and William Shakespeare, among others.
Q. How old is Westminster Abbey, and when did it start becoming a burial place?
A. Westminster Abbey, founded in 960 AD, became a significant burial place after the consecration of its current structure in 1065, starting with King Edward the Confessor.
There are thousands of graves and memorials in Westminster Abbey. You could easily spend an hour or two discovering the famous names and learning their incredible stories. So, what are you waiting for?