With just a shade under 2,000 years of royal history between them, it's little wonder that Windsor Castle and Hampton Court Palace are among the UK's most popular tourist attractions, with millions of visitors flocking to these palatial piles every year. But how do these titans of British tourism measure up? Which is the world's largest occupied castle? Which has the most reported hauntings? And which is home to the oldest (and largest) grapevine on the planet? We got up close and personal with these regal residences to find out.
Windsor Castle Vs Hampton Court Palace: A Brief History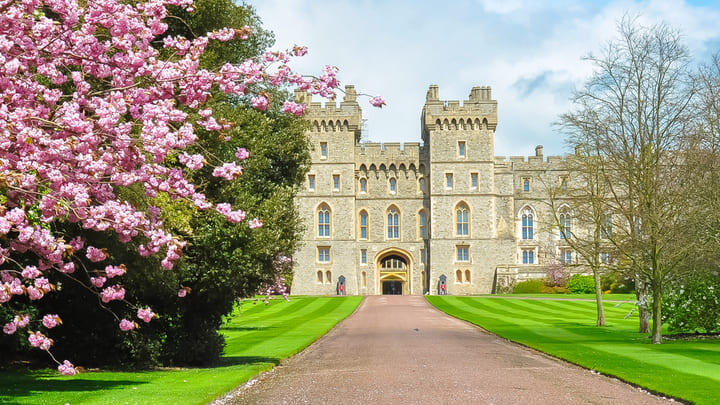 Built in the aftermath of the Norman Conquest and pushing 1,200 years old, Windsor Castle is the older sibling by some margin. It's remained a favorite royal residence since its 11th-century iteration as a motte-and-bailey fortress under William the Conqueror. Extensive expansion under (primarily) Henry III and Edward III in the 13th and 14th centuries formed the blueprint for the palace today, with Charles II's post-Reformation renovations lending much of the baroque splendor for which the castle is best known. A favorite weekend retreat of the late Queen Elizabeth II for much of her long life, Windsor remains the world's oldest and largest occupied castle to this day, with great swathes of its extensive grounds, state rooms and historic buildings open to the public. Quirky Windsor Castle fact: it takes around 16 hours to turn all of the castle's 450-or-so clocks backwards and forwards for daylight saving.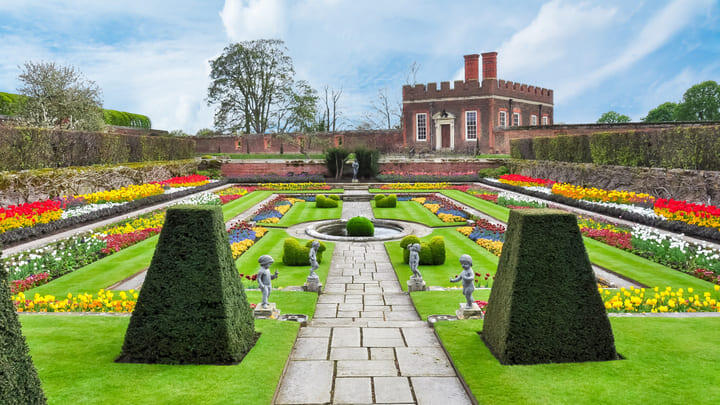 Hampton Court Palace is most closely associated with Henry VIII, who in turn is associated with epic medieval banqueting, obesity, gout and, of course, a guillotine-heavy approach to marital separation. In spite of an, um, somewhat bloody history, today the palace looks every bit the fairytale castle, all ornamental brick chimneys and crenelated Tudor towers. It wasn't always this peaceful though. In fact, back in Henry's day, it was anything but. Built by Henry specifically for the purpose of all-day feasting (with masons often forced to work through the night by candlelight to complete it), the Great Hall was the scene of many a bacchanalian food orgy. The palace was also where Henry's third wife Jane Seymour died following childbirth and where Catherine Howard, Henry's fifth wife, was confined prior to her beheading on charges of adultery. The palace was significantly remodeled by Sir Christopher Wren in the 17th Century, under the House of Stuart. These alterations erased much of the original Tudor look and replaced it with the fine Palace of Versailles-inspired architecture that still defines this epic edifice to this day. Quirky Hampton Court Palace fact: there have been multiple reported sightings of Catherine Howard's screaming ghost running along the palace's aptly-named Haunted Corridor.
What to see and do at Windsor Castle
You'll need at least a half day to fully immerse yourself in Windsor Castle's many riches. Here are some of our favorite must-sees…
The Round Tower
Originally built by Henry II way back in 1170, the castle keep has been remodeled countless times down the centuries. It's arguably best viewed from the outside, but you can also take guided tours up the interior staircase to enjoy sweeping views across the Thames Valley to the London skyline.
The State Apartments
Marvel at the gratuitous gilded opulence of these hallowed halls and ogle the ostentatious displays of unimaginable wealth within! Chief among the riches to be found in the regal State Apartments are masterpieces by Rubens, Holbein and Brueghel, as well as an extraordinary triple portrait of Charles I by Anthony Van Dyck that would make even the most narcissistic selfie-taker blush.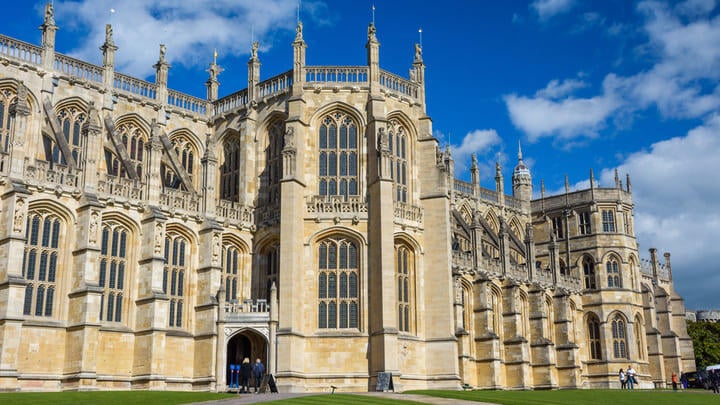 St George's Chapel
The final resting place of some 11 kings and queens (including the late Elizabeth II), this grand medieval Gothic confection is one of Windsor Castle's most photogenic buildings. No wonder that many royals – like Harry and Meghan – have chosen to tie the knot here.
Queen Mary's Dolls' House
Experience life in miniature inside what might just be the planet's most famous (and largest) doll's house. Built for Queen Mary in the first half of the 1920s, it contains tiny pieces fit for a queen from some of the top artists of the day: we're talking miniature books, paintings, flower vases, wine bottles, vehicles and just about every other Georgian household item you can imagine. There's even running water, electricity, working elevators and an intricate landscaped garden designed by celebrated horticulturist Gertrude Jekyll.
Afternoon entry to Windsor Castle is included with the London Pass®.
What to see and do at Hampton Court Palace
Hampton Court Palace differs from Windsor Castle primarily through imaginative use of its grounds, partly due to Henry VIII's penchant for outdoor sporting pursuits (and wine). Here are some of the highlights, both inside and out...
Hampton Court Gardens
Some 60 acres of gardens comprise a deer park and a recreation of William III's Privy Garden as well as some of the estate's most popular attractions. We're talking the Great Vine, only the world's oldest grapevine. At over 250 years old, it's now over six feet thick and still produces a small amount of fruit to this day. Then there's the palace maze: half a mile of paths hemmed in by towering yew tree hedges way too tall to see over, where courtiers have been getting lost since 1690. Good luck in there!
The Great Hall
Don't miss England's most impressive medieval hall, which once rang to the sound of raucous all-day feasts and money-can't-buy entertainment, even hosting William Shakespeare and his company in 1603. From here, peer into the Haunted Gallery where you might just encounter the screaming ghost of one Catherine Howard.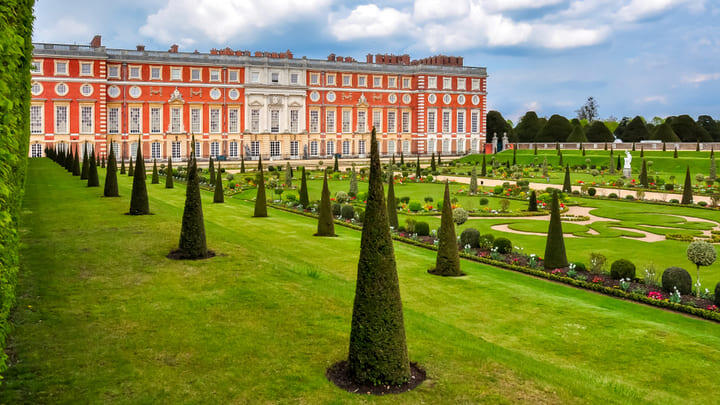 Tudor Kitchens
Discover how the below-stairs staff lived in these cavernous kitchens that once catered for up to 600 greedy aristos not once but TWICE daily during the Great Hall's banqueting heyday.
The Astronomical Clock
Made for Henry VIII in 1540, this 15-foot-high mechanical marvel in the suitably named Clock Court is not to be missed. Not only does it tell the time, you can also check what month it is, which sign of the zodiac we're currently in and how many days have passed since the last new moon. Handy.
The Chapel Royal
Within this extraordinary example of baroque architecture, beneath its fine Tudor timber ceiling, is where, in 1540, Archbishop Canmer presented Henry VIII with the letter accusing Catherine Howard of marital indiscretions. And the rest, as they say, is history.
Entry to Hampton Court Palace is included with The London Pass®.
Fast facts: Windsor Castle
Tickets
Entry tickets are available direct via the official website. Alternatively, The London Pass® includes entry to Windsor Castle as well as many more London attractions, including the Tower of London, Hampton Court Palace and London Zoo.
Opening Hours
Open 1 March-31 October daily from 10AM to 4PM (closes 5.15PM), and1 November-28 February from 10AM to 3PM (closes 4.15PM).
Getting There
Trains from London serve nearby Windsor & Eton Central  and Windsor & Eton Riverside stations. The Green Line 702 coach service has regular daily departures from near Victoria Station in central London.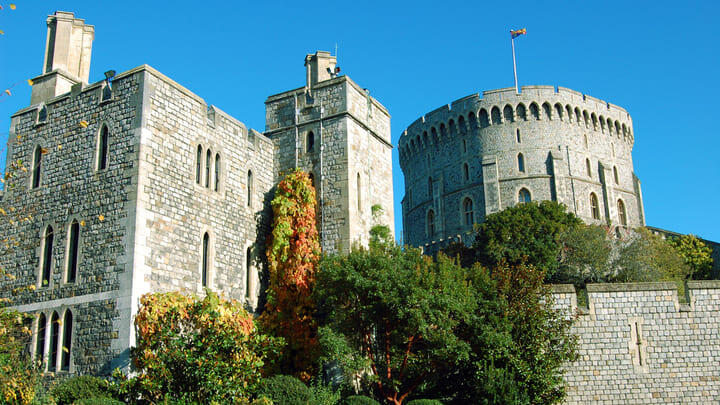 Fast facts: Hampton Court Palace
Tickets
Entry tickets are available direct via the official website. Alternatively, The London Pass® includes entry to Hampton Court Palace as well as many more London attractions, including St Paul's Cathedral, Windsor Castle and Shakespeare's Globe Theatre.
Opening Hours
Open from 10AM to 5.30PM most days (last entry 4.30PM), with some seasonal variation. Check the official website for the latest opening dates.
Getting There
Train services run from London Waterloo Station every 30 minutes, calling at Vauxhall, Clapham Junction, Earlsfield, Wimbledon, Raynes Park, New Maldon, Berrylands, Surbiton, Thames Ditton and Hampton Court. Bus services also operate from Richmond and Kingston.