That smell of pine trees, mulled wine and nervous, last-minute shopping can only mean one thing. Yes, the merriest of months is nearly at its merry peak. Christmas. Love it, hate it (easy, Scrooge), it's an inescapable ball of bright, fancy fun.
Churchyards have erected their inexplicable Christmas tree stalls. Secret Santa is making its way around reluctant offices. Neighbours are battling one another for the house decoration Olympics. London truly comes alive over Christmas, with myriad shopping and entertainment possibilities popping up all over.
If you live here, you already know this. If you don't, boy are you in for a surprise. Negotiating the festivities might seem a little daunting. If you're only here for a bit, you'll want to fit in as much festive fun as humanly possible. Don't worry. Take a cold, steamy breath. And take a pew. Our guide to spending Christmas in London is your one-stop-shop for navigating all the Christmas craziness. 
Featuring the likes of:
Shopping extravaganzas
Winter Wonderland
Christmas Markets galore
Pantomimes
...and much, much more!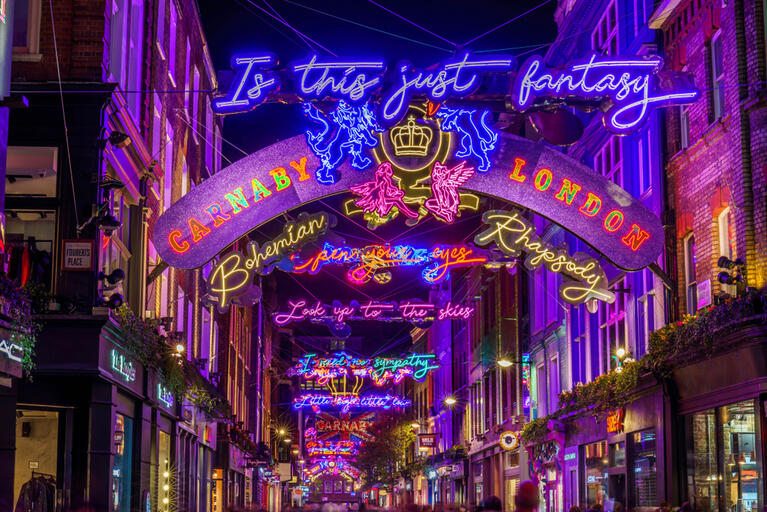 Shop Til You Drop
If like us you're often woefully under-prepared for Christmas Day, London has a seemingly infinite number of shops to save the day. In the spirit of the holiday, head somewhere dripping in Christmas charm. The likes of Oxford Street are world-renowned for shopping opportunities. But over Christmas, it's transformed into an extravaganza of lights and decorations. As too are other famous shopping streets like Carnaby Street. 
London's most famous Christmas market/experience/theme park is back. Winter Wonderland is a mainstay of Hyde Park come Christmas time, and this year is no different. Zippo's Circus is in residence, with a decidedly Christmasy vibe.
There are more food and drink stalls than you can shake a candy cane at. And attractions like Bar Ice, the Giant Observation Wheel, and the Magical Ice Kingdom are bound to get kids big and small alike in the spirit. Festive.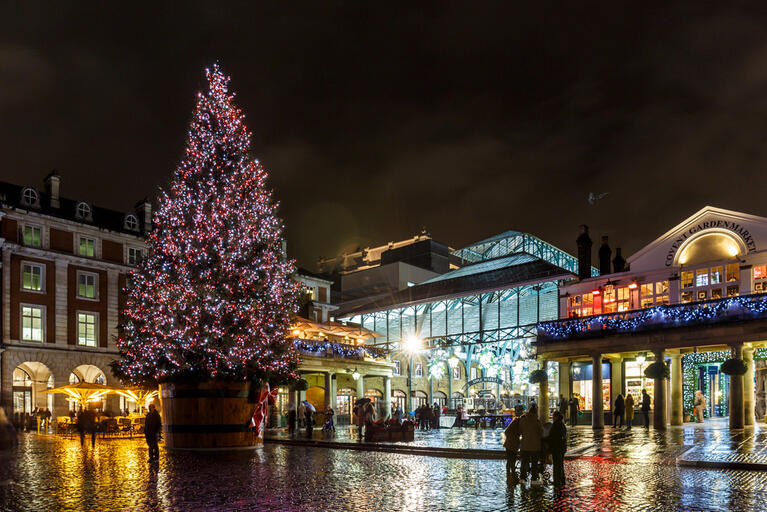 Christmas Markets 
Also, alongside Hyde Park's Winter Wonderland, there's a wealth of alternative Christmas market destinations.
In central, you also have the Southbank Centre Christmas Market, which is just a short walk from the London Eye, or get lost among the throngs of happy shoppers and street performers at Covent Garden Market.
Over west, there's the Ealing Christmas Market. Travel east, and you'll find, among others, Brick Lane's Zero Waste Christmas Market. Up north, there's the Christmas Canopy Market at King's Cross. And down south, there's Greenwich Market.
Wherever you are in the city, you'll find festive fun and shopping galore.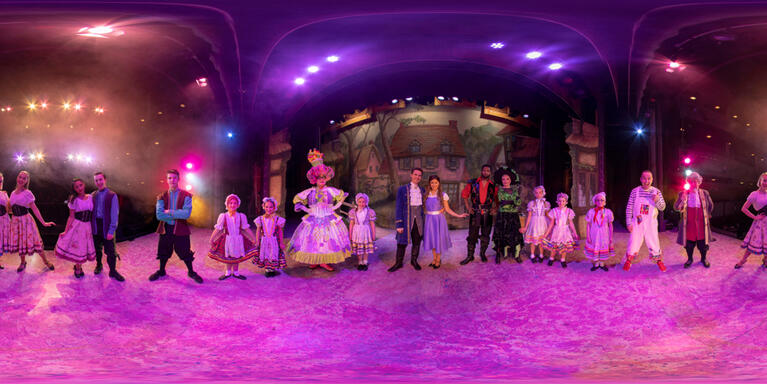 Oh No You Didn't! Oh Yes We Did. 
So, pantomimes are a bit of a cultural delicacy in the UK. We love them. And if you're visiting from afar, why not see what all the fuss is about?
These super-campy theatrical takes on beloved classic tales such as Beauty and the Beast, Cinderella, Aladdin and, in more recent years, a stage version of Elf are sure to get audiences fired up for the Christmas season. You'll be in fits of laughter watching slapstick antics, men in drag and sometimes even an animal actor.
What's more, they typically star a roster of nationally-known sweethearts of British soaps and comedians, so it's always fun to see a familiar face on the stage providing the giggles!
Expect many sides to be split among the old and young alike at any one of these excellent family favourite stage shows.
Take a look at the Big Panto Guide to see what's on this season.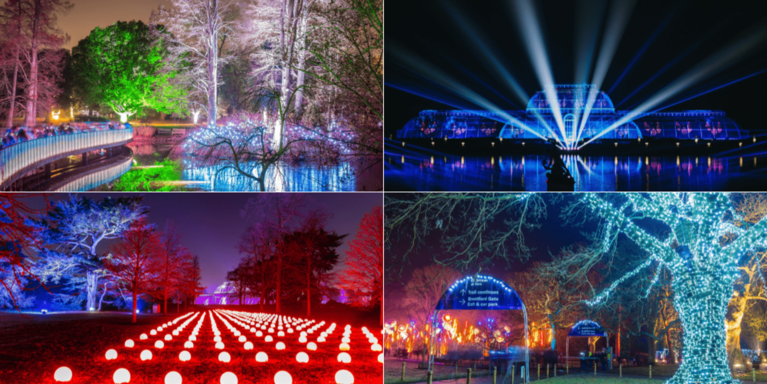 Christmas At Kew
Kew Gardens is one of the world's most revered gardens, housing thousands of plants and flowers from all over the world. It should be near the top of any visitors list, but at Christmas, it transforms. Lights, music, Christmas food, market stalls.
But, really, we need to talk about the lights. Thousands upon thousands of them are littered throughout the gardens. Across arches at the entrance. Around tunnels you pass through. And dotted across the ground and trees as they flash in sequence to the backdrop of orchestral classics.
Kew is brilliant. But Christmas at Kew is next level. Grab a hot chocolate, or a mulled wine if you like, and let it all wash over you. 
On The Day Itself
Anyone lucky enough to be in London town for Christmas Day can't afford to miss the Peter Pan Cup. It's a swimming race held each year by the Serpentine Swimming Club. And don't worry, participation isn't expected.
To warm up, why not visit one of London's many restaurants serving up delicious Christmas day meals. Bar Boulud is serving up a three-course traditional dinner with a flourish of class. Then walk off that big meal with a stroll along one of London's scenic walking routes.
Relive 'A Christmas Carol' with a festive wander guided through Dickensian landmarks. You'll pass St Paul's, where the Bishop of London will preside on Christmas day.
The Best Of The Festive Rest
If festive songs are what puts you in the Christmas spirit then take yourself to the Courtyard carol singing at Hampton Court Palace. In the week leading up to Christmas, all the songs will be sung, and Christmas fun will be done. Accompanying you on this festive journey is the Epsom and Ewell Silver Band. So, don't embarrass yourself. 
Hungry from all the festive fun? Fortnum & Mason offer up a tasty afternoon tea with an unrivalled level of festive cheer just a moments' walk away from Covent Garden where you can shop under a massive Christmas tree. Nothing is more magical at Christmas time than meeting Santa himself. The Royal Albert Hall offers up a festive tour designed for both children and families, serving up a warm plate of Victorian themes, stories, and engaging activities.
St Pancras International station has a tree that is likely to make any child - and adult - excited for Christmas. This year's includes an ode to London Zoo's animals in the form of a tree-shaped pop-up storybook. Past creations have included a tree by Tiffany & Co. that emitted their classic scent over station-goers and a 14-metre high tree made of toys that shot bursts of snow out of the top every few minutes!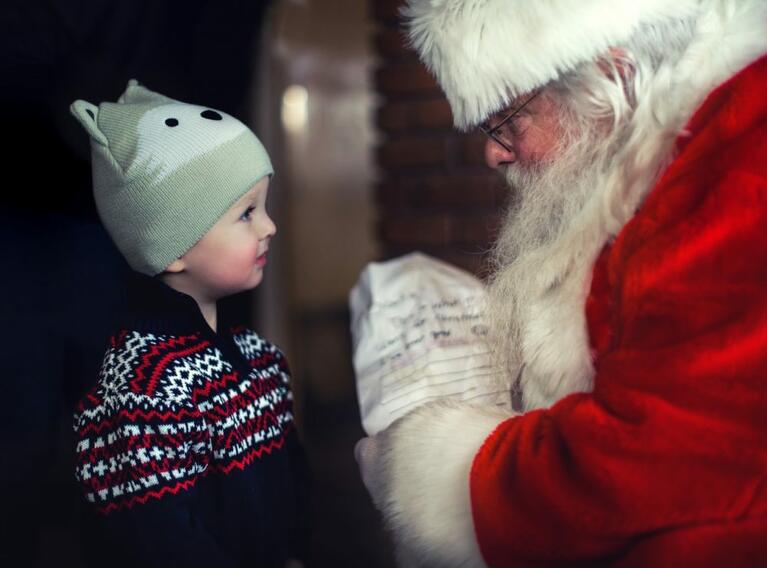 And, well, that about does it for all of our Christmas in London recommendations! Of course, London's a big old place, so we're sure we missed some of the innumerable treats.
However, if we missed any you love, let us know in the comments below. Plus, if you're interested in any of these, we'd love to hear about your experience!
Bon voyage, and most importantly, Merry Christmas!