Thirsty for some British bites? You've come to the right place! We've crafted the ultimate pub grub guide to fuel your UK adventures. 
Nothing says Great Britain like sharing a meal in a pub - the locals' living room. You'll find value, casual atmosphere and hearty dishes, all washed down with top drinks. A pub visit is a must for any trip to these isles.
To help you find the best bites, we've researched pubs across the country and their specialties. This guide highlights traditional British staples, from fish and chips to ploughman's lunches.
Whether a light lunch or full evening out, you'll leave satisfied.
Dive into our recommendations. We'll point you to pubs that master the classics. Keep reading to fuel your taste buds with great British grub from great British pubs, and if you want to experience a London pub crawl, we've got some great recommendations.
Oh, and if you read to the bottom, we might have a list of the places you need to put on your list- we're talking the Pubs of ALL Pubs!
Relaxed environment
If you're looking for a cosy atmosphere and home-cooked food, look no further than a pub.
Casual dining is very popular in the UK and you can enjoy pub food without having to sit on ceremony. You often won't need to book, and (depending on the size and type of pub) you can sit in the bar area or a separate section for dining.
Best of all, pub grub offers value for money and large portions!
Fun for all the family
Most pubs offer family-friendly opportunities to enjoy a meal out in a relaxed atmosphere (although we recommend you double-check first). When it comes to pub grub, there's usually something for everyone.
And if there isn't a specific kid's menu, you can ask for smaller portion sizes or share some side dishes. A lot of pubs have beer gardens – great for the summer and even better if there's some play equipment for the kids.
Good draught beer
Draught beer, bitter, or ale are what pubs are famous for, and traditional British beers are seeing a revival. It's hard to beat the quality and choice of beer in other eateries, so if you're in a pub why not try a beef and ale pie? Or a delicious beer-battered cod, with chunky chips?
What's on the menu?
Traditional British pub dishes haven't changed much over the years, although you can now find the addition of non-traditional favourites inspired by cooking from all over the world.
Check the menu before you choose your pub – you may be in for a surprise. Some, for example, serve Thai food only. Having said that, here are some traditional British pub grub faves:
Mains
Sunday Roast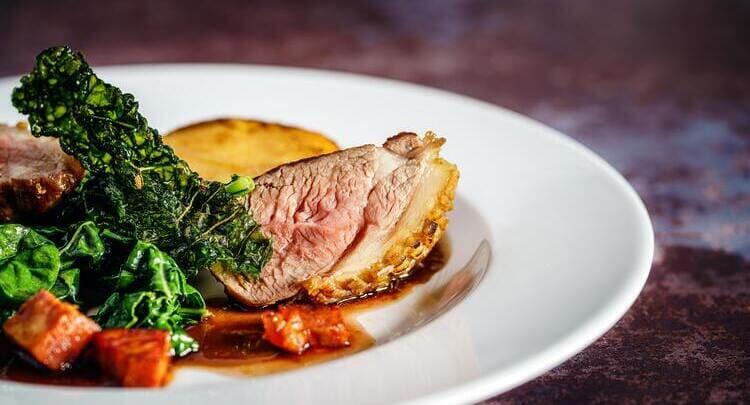 Usually served at lunchtime, the roast is often chicken, beef, lamb or pork. Served with roast potatoes, a mix of fresh vegetables and gravy. And don't forget the trimmings! 
Roast beef isn't complete without Yorkshire pudding (a baked batter pudding, best filled with gravy), mustard and horseradish sauce. Pork is delicious with apple sauce; roast lamb and mint sauce belong together.
Don't worry too much if it's not a Sunday – many pubs offer roasts throughout the week.
Steak and Kidney Pie
A savoury pie with a pastry lid, filled with a mixture of diced beef and kidney, fried onion and brown gravy. Not for the faint-hearted, it's a great winter warmer and delicious with a side order of vegetables.
Bangers and Mash
A British staple made named for its mashed potatoes and sausages, but the gravy is just as important. The type of sausage used varies, but a curly Cumberland is nothing to be scared of.
Filling and comforting, it's exactly what you want from British pub grub.
Toad in the Hole
Not as strange as it sounds and certainly nothing to do with toads. This is another sausage dish, but this time the sausages are baked in Yorkshire pudding batter. It's served with loads of gravy and fresh vegetables.
Fisherman's Pie
Not in the mood for meat? Fisherman's pie is classic pub grub. The pie is made with smoked whitefish in a white or cheddar cheese sauce, and gets baked in the oven topped with mashed potato. It can also contain prawns and hard-boiled eggs, and comes served with garden peas. 
Fish and Chips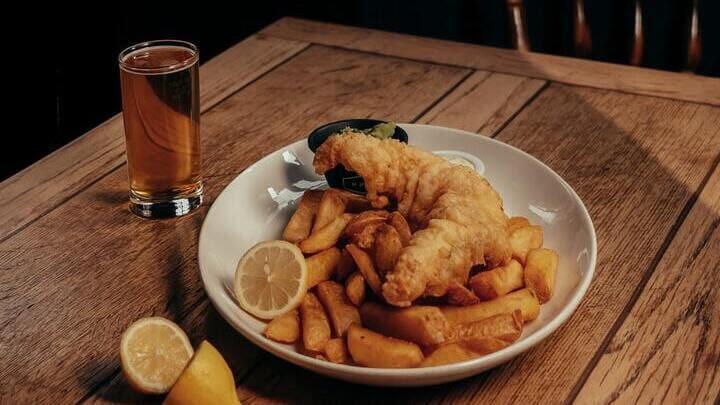 No trip to the UK is complete without fish and chips, and the best thing about ordering this dish in a pub is that the batter will often have been made with some of the pub's delicious draught beer. Try it with some tartare sauce and mushy peas.
Ploughman's Lunch
A traditional lunch brought out to the fields by ploughmen, this cold plate of cheese, pickle and crusty bread is simple yet delicious. You might also have some apple, boiled eggs, ham or pickled onions on the side.
As its name suggests, you eat a Ploughman's at lunchtime.
Vegetarian and Vegan
Hello there, veggies and vegans. You have nothing to worry about. When in London, you'll find that most pubs have a great selection of vegetarian dishes, including vegetarian nut roasts with onion gravy, battered tofu & chips, as well as pies and pasta dishes.
If nothing takes your fancy, you can always request the chef to make up something for you.
Specials
Don't forget to check the specials board! You'll most likely find interesting 'twists' on pub favourites like special pies, curry, burgers or even sausages of the week!
Desserts
Treacle sponge pudding
Are you still hungry? That's fair enough. Try this typical British dessert – steamed sponge, with treacle on top and usually served with hot custard or ice cream.
Knickerbocker Glory
Finally, here's one for the kids. A 'knickerbocker glory' is a colourfully layered cream, ice cream and fruit sundae served in a tall glass. A long spoon is essential if you want to get to the bottom!
 Here's the list of the top pubs in London (with their general location):
There's a whole lot more to Britain than just the iconic London.... so we've added a few more that are simply amazing outside of London.
Best British Pubs (outside of London):
You're welcome! 
If you're looking for good food and friendly service in a relaxed atmosphere, you can't go wrong with a British pub.
Of course, the menu will vary from place to place (from gastro-pubs to carveries and independent locals to national chains), but you'll often find staple pub grub favourites to suit every appetite and occasion. Check out our London pub tour while you are at it.
Bon appétit! Consider picking up a with London Pass® when visiting the city – a pub is the perfect option to refuel when sightseeing!