As one of Britain's most notable literary characters, the boy who lived has made his mark on the English capital. And, sadly, why you may not be able to Visit Hogwarts in the English capital, you can still find plenty of Harry Potter in London. Here's our list of all the unmissable Harry Potter experiences in London. Just solemnly swear you'll be up to no good.
Slip into King's Cross Station and find the elusive entrance to the Hogwarts Express train platform. It was here that all the greatest witches and wizards took their first steps on their magical journeys. Fans of the series can pose with Harry's luggage trolley under the Platform 9 ¾ sign. There's even a dedicated photo spot for aspiring young magicians. And once you've got the perfect photo, venture into the stunningly designed Harry Potter Shop. Find the perfect memento to mark the occasion. There are lots to choose from. Address: King's Cross Station, Euston Road, King's Cross, London N1 9AL Opening times: Store hours 8am - 10pm, Monday - Saturday; 9am - 9pm Sunday Prices: Free
Want to indulge your Pottermania and take in London at the same time? Brit Movie Tours offers not one, but two Harry Potter bus and walking tours. They'll take you from the entrance of the Leaky Cauldron all the way to the Ministry of Magic. Available as a half or full-day tour, the route takes guests past some of London's biggest tourist attractions. Visitors can see the Tate Modern, St. Paul's Cathedral, Borough and many more. Address: Walking tour begins at Westminster tube station, bus tour begins at Temple tube station Duration: Walking tour, two hours; bus tour two and a half to three hours Prices: London Pass holders get 20% off all tickets using the coupon code LDP20; walking tour adult tickets priced at £12, children at £10; bus tour adult tickets priced at £27, children at £20
Delve behind the scenes of the beloved Harry Potter films at the Warner Bros. Studio Tour. Inside, you'll see Harry's world like never before. It features many magical touches like scaled-down replicas of Hogwarts and real steins of Butterbeer. The sprawling studio is ripe for exploration, with several hours of fun and entertainment. Starting at the very beginning with Harry's little cupboard under the stairs, you'll travel to iconic locations like the Great Hall, Diagon Valley and Privet Drive. The souvenir store alone makes the journey worth it. London Pass holders are eligible to purchase an exclusive studio tour package including tickets and return transportation to Central London. Address: Warner Bros. Studio Tour London, Studio Tour Drive, Leavesden, WD25 7LR Opening times: Varying opening hours daily, all times available here Prices: £66 for adults, £61 for children, £20 for infants 3-4 (transport only), free for children aged 2 and under for all London Pass Harry Potter Studio Tour customers (including transport and tickets); £35 for adults, £27 for children 5-15, free for children aged 4 and under, various group and family packages priced £25.50-£36.95 (prices subject to change in 2017)
Westminster
Not only is Westminster one of London's most iconic districts, but it's also packed with Harry Potter film locations. Begin at Westminster tube station, where muggle-fanatic Arthur Weasley bumbled his way through the turnstiles with Harry. Then, leisurely make your way over to Westminster Bridge to relive the stunning flight over the Houses of Parliament in the Order of the Phoenix. Budget time in to see the rest of the area and Westminster Abbey - while they aren't related to Harry Potter, they're still well worth seeing.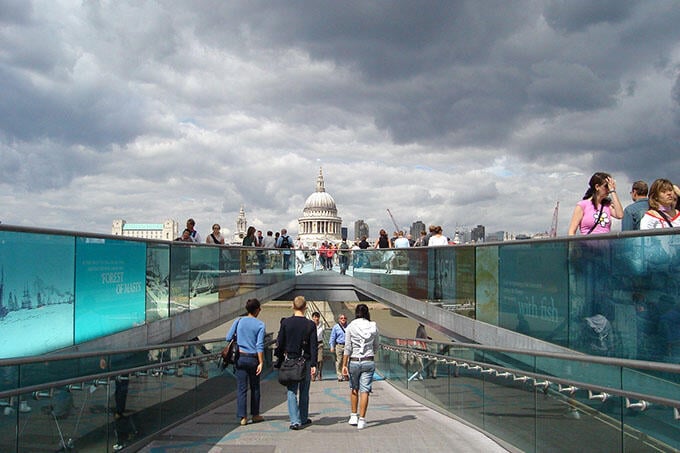 Millennium Bridge
Featured in the iconic opening scene in The Half-Blood Prince where death eaters collapse the Millennium Footbridge, this pedestrian-only suspension bridge over the Thames offers awesome views of St. Paul's Cathedral as you walk from South to North.
Leadenhall Market
To get into Diagon Alley, you won't have to remember the secret code or anything like that. All you need to do is head over to Leadenhall Market, where the covered Victorian walkways and charming shopfronts made up many of Diagon Alley's exterior shots. Keep an eye out for 42 Bull's Head Passage, an optician's shop with an unmissable bright blue door used as the entrance for the Leaky Cauldron. Squint, and you're there. Address: Gracechurch Street, London, EC3V 1LT Opening times: Monday - Friday, 10am - 6pm; closed on weekends Prices: Free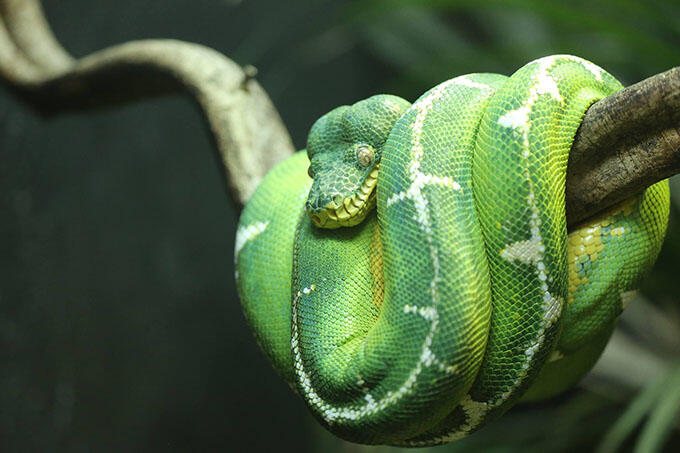 Explore the location where Harry first discovered his 'parseltongue' ability and innate gift for talking to snakes in the Philosopher's Stone. Home to over 650 species from reptiles and mammals to invertebrates, birds, fish and more, the London Zoo is a must-visit for all visitors.
Undoubtedly one of the most exciting things to come out of the Potter franchise in recent years, this two-part play is the official eighth part of the Harry Potter story based on a story by J.K. Rowling, Jack Thorne and John Tiffany. Set long after the seventh book ended, Harry now works full time at the Ministry of Magic and has three young children - including Albus, the youngest who has also inherited his father's gift for troublemaking. Bear in mind that the show sells out quick, so make sure to book your tickets well in advance. And those are all the best locations to experience Harry Potter in London. Fancy discovering more of your favourite film locations? Why, step right this way.