Venture across the River Thames on one of London's bridges, sites of architectural excellence and the city's long history.
If you find yourself strolling along the Thames, you're bound to come across at least one (or more) of London's iconic and historical bridges. From East to West, London's famous river is crossed by famous bridges, each with their own interesting backstory and fun facts. Take in part of the city's history with our guide to London bridges...
London Bridge
As the namesake of the somewhat dark children's nursery song, London Bridge is commonly mistaken for the more ostentatious Tower Bridge by tourists and has undergone numerous facelifts since it was first built by the Romans hundreds of years ago. It remains a busy crossing for cars and pedestrians crossing the Thames and also boasts beautiful shots of the river from its balustrade.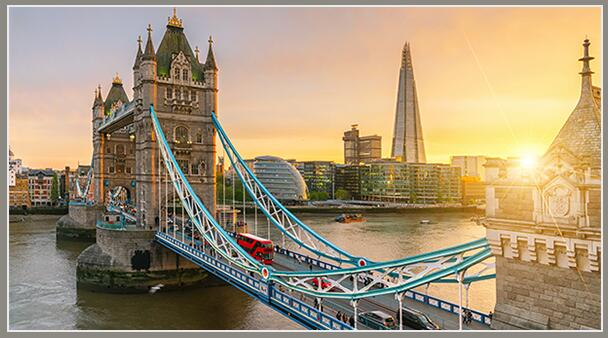 Tower Bridge is always at the top of every London traveller's list and the stunning wonder of British architecture and engineering never fails to amaze. Constructed over 120 years ago, it spans over 244 metres and was built by the City of London to help people cross the river without blocking water traffic. With a stroke of luck, you'll be able to watch the bridge split in two to allow larger boats to pass between its towers unhindered. In recent years, the high level Walkways have been reopened for tourists to enjoy stunning views of London and enjoy an exhibit detailing the history of the bridge.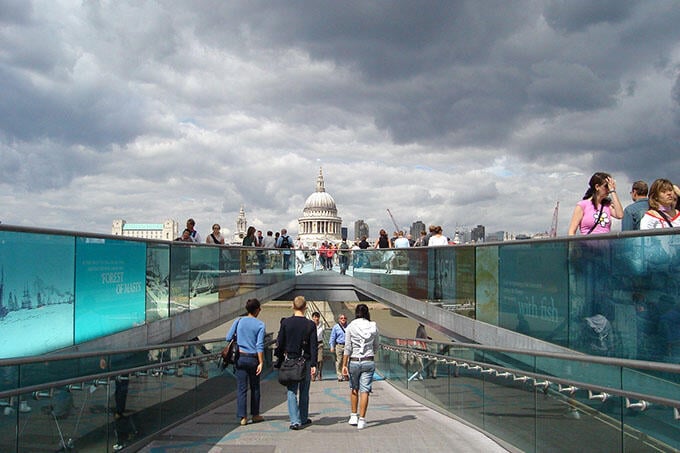 Millennium Bridge
Best known for a hair-raising scene in the Harry Potter films, the Millennium Bridge is a sleek, modern suspension bridge for pedestrians. It was nicknamed the 'Wobbly Bridge' when it opened as swayed noticeably and after a long period of renovation, it was reopened to the public sans wobble. Connecting famous sights like the Shakespeare's Globe and Tate Modern on the south bank to places like St. Paul's Cathedral on the north bank, it's a great experience for those beating the tourist trail.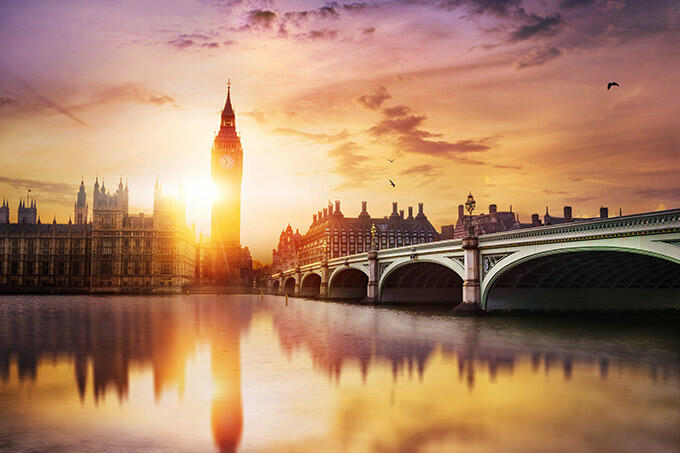 Westminster Bridge
Just beyond Westminster Abbey, the tube station and the most powerful people in London arcs the Westminster Bridge, the oldest surviving bridge in London and one of its busiest. Painted green to mimic the seats in the House of Commons, those looking for the perfect shot of Big Ben and the Houses of Parliament will find this a great place to set up their cameras.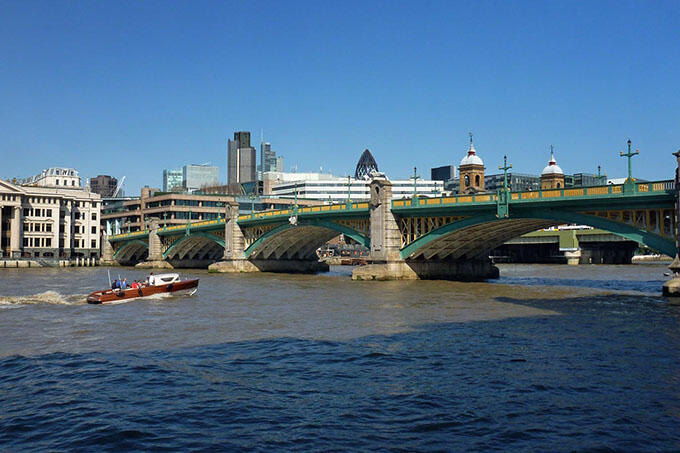 Image via BritainFromAbove.org.uk
Southwark Bridge
For a leisurely stroll across the river, navigate your way past the Globe Theatre and step onto Southwark Bridge; one of London's quieter road and foot bridges. Built in 1819 in the hopes of lessening traffic on London and Blackfriars Bridges, it actually did little to alleviate the congestion but remains one of the best places to take in the river sights.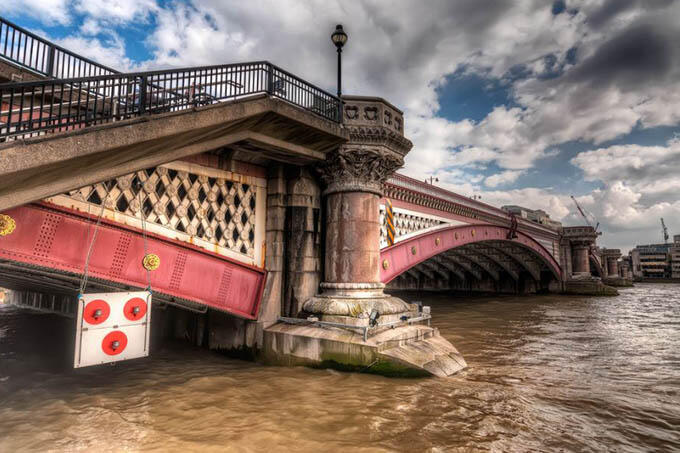 Image via Flickr
Blackfriars Bridge
Designed by London architect Joseph Cubitt, Blackfriars is one of London's prettiest bridges with its detailed arches and stone carvings of both coastal and freshwater birds to represent its position as a tidal turning point. Featured frequently in popular culture, it is perhaps best known for the suspicious death of Italian banker Roberto Calvi who was found hanging from it with bricks in his pockets.
Image via Flickr
Vauxhall Bridge
Before crossing Vauxhall Bridge, walk a little further down to admire the bronze sculptures lining its columns that represent agriculture, architecture, engineering and more. Painted in bold scarlet and yellow, one of London's key roads traverses it and it constantly thrives with cars and people.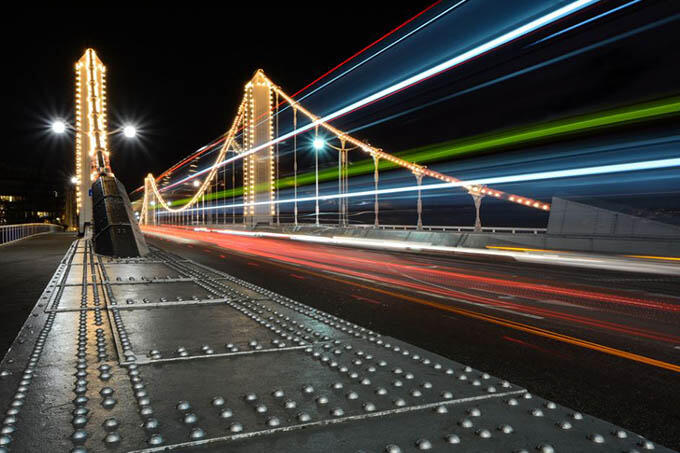 Image via Flickr
Chelsea Bridge
Not to be associated with Chelsea FC, it was previously named the Victoria Bridge after the Royal Family; the name was later changed to the Chelsea Bridge to avoid dragging the Royal Family through the mud should it ever collapse. This narrow suspension bridge was first built in the 1840s and over the years has been remodelled to its current modern incarnation today. In the 1950s, it became a popular racing ground for motorcyclists which culminated in a gory standoff between rival motorcycle gangs including the Hells Angels.
Image via Flickr
Waterloo Bridge
Waterloo Bridge was hailed the 'noblest bridge in the world' by Italian sculptor Canova when it was initially constructed by British architect John Rennie in the 1800s. Since then, it has been rebuilt and its current iteration is fondly called the Ladies Bridge, since it was built largely by women during World War Two while many male construction workers served in the military.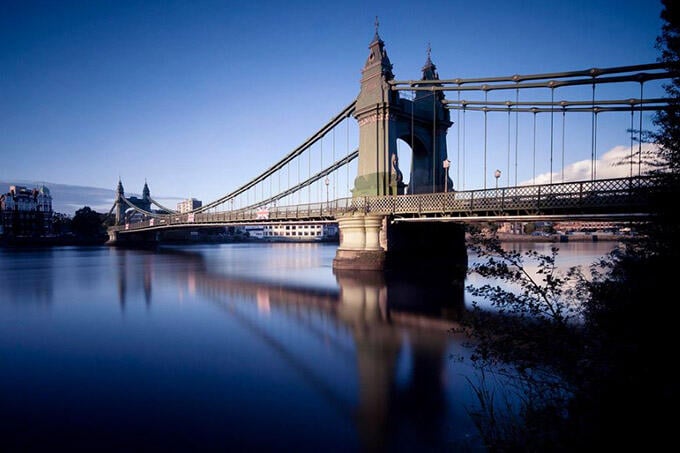 Image via Flickr
Hammersmith Bridge
This beautifully designed suspension bridge is easily recognisable by its bright turquoise colour and tall towers. Dating back to 1827, it was later rebuilt by famous civil engineer Sir Joseph Balzagette sixty years later and remains a popular route for those driving or walking into Hammersmith or Richmond.