The great British tradition of sipping a pint in an old, old pub is one every tourist should try. And there's no better place to commune with one's pint than in London's oldest pubs. Pubs are deeply intertwined with British culture. For centuries, they've been popular places for social gatherings and central to neighbourhood life. So it's no surprise then that some pubs are among the oldest buildings in the city. They are still points in fast-moving London endless spin. From famous literary hangouts to more notorious gathering places, here's a list of London's oldest pubs. Featuring:
The George Inn
Spaniards Inn
The Angel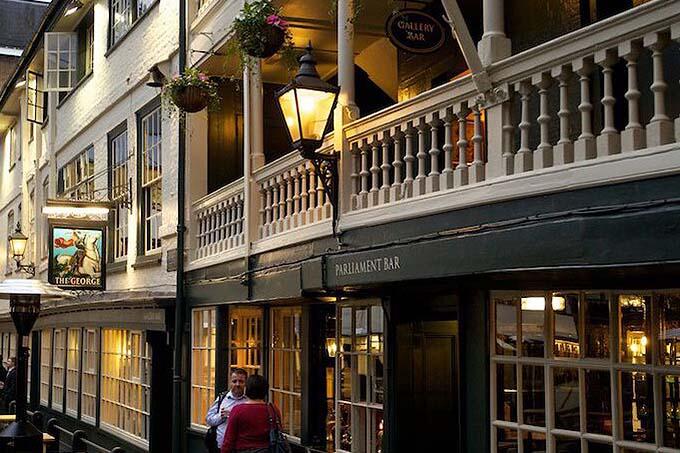 Image via George Inn facebook
The George Inn
This old stalwart has been a favourite watering hole for some of London's most famous faces for centuries. Charles Dickens used to relax here after a day of writing. It's no surprise then that it's popular with literary sorts. Rebuilt after the Fire of London in 1676, it continues to be a local favourite and has plenty of outdoor seating for those long summer nights. Address: The George Inn, London Bridge, SE1 1NH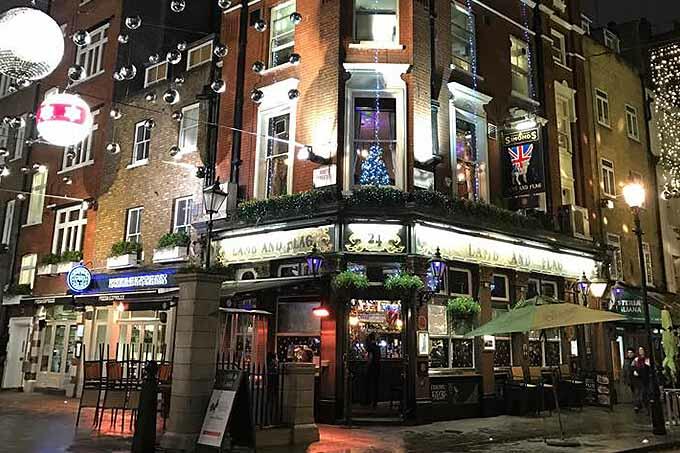 Image via The Lamb and Flag facebook
The Lamb and Flag
Set up in 1772 and located in the heart of Covent Garden, The Lamb and Flag is one of the newer pubs on this list. But it has an equally as fascinating history. Back in the day, this pub was well known for its rowdy customers and was the site of many bare-knuckled prize fights. It has cleaned up its act in recent years and its historical detailing makes it a popular place with tourists. It used to be nicknamed 'The Bucket of Blood'. Whisper that fact in someone's ear and - hey presto! - a free seat. Address: 33 Rose St, London WC2E 9EB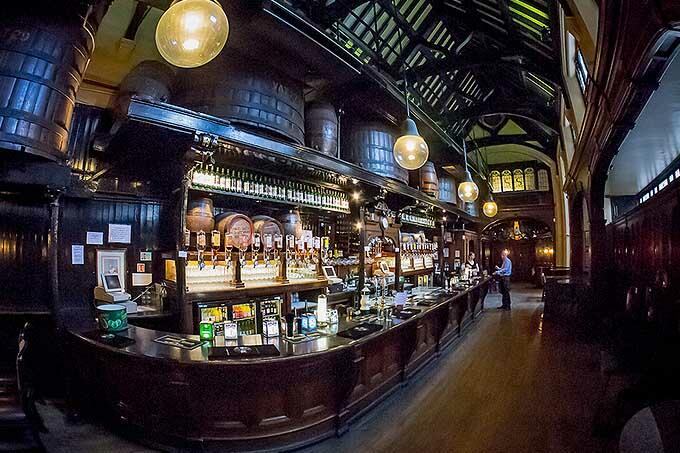 Image via Flickr
Cittie of Yorke
This Grade II-listed historical building has been a favourite with locals and travelers since 1420. It was initially an inn, but transformed into a pub in 1645. With multiple bars and grand decor, it's an atmospheric spot for drinks on High Holborn. It's also a Sam Smiths pub. And if you know what that means, you know to keep it to yourself (it's cheap. Sorry, Secret Society of Central Sam Smiths Pubs members, it's my job). Address: 22 High Holborn, London WC1V 6BN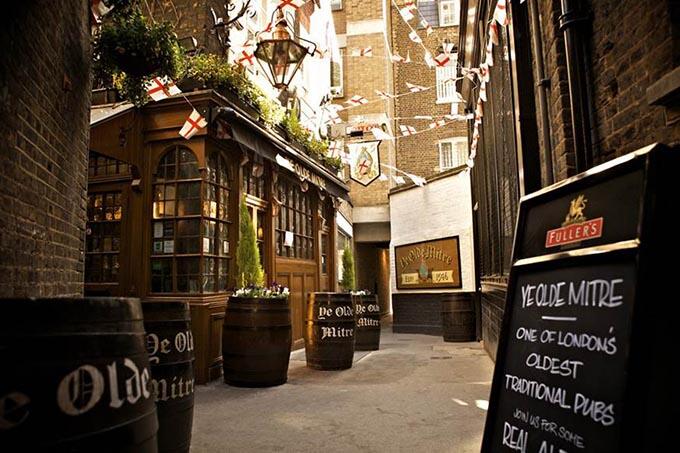 Image via Ye Old Mitre
Ye Old Mitre
Tales tell that Queen Elizabeth I once danced around this pub's cherry tree, which survives at its entrance to this day. While it can be a little tricky to find, it's a great example of a traditional English pub and dates back to 1772, though another pub had stood on the same location from 1546. Perfect for a quiet drink in the colder months, their coal fires and impressive Tudor details will keep you warm as you slip into a deep reverie. Address: 1 Ely Pl, London EC1N 6SJ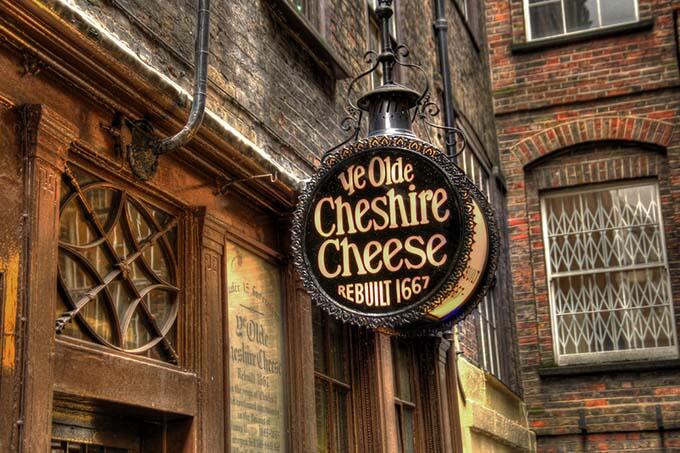 Image via Flickr
Ye Olde Cheshire Cheese
This sprawling Fleet Street pub features frequently in London tourist guides. And it's with good reason. Built in 1538 and then later rebuilt in 1667 following the Fire of London, it's one of London's oldest pubs. It has a number of rooms with distinctive characters, from the Victorian entranceway to the cellar room that's thought to have been part of a monastery which once stood here. Another Dickens favourite, other former patrons include Mark Twain, Alfred Tennyson and Sir Arthur Conan Doyle. Address: 145 Fleet St, London EC4A 2BU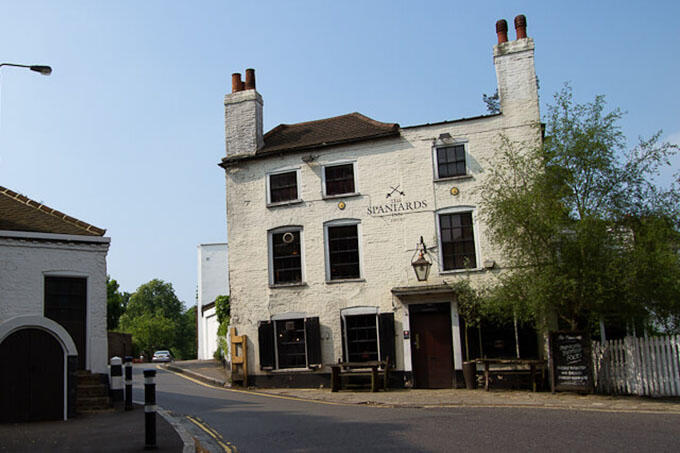 Image via Spaniards Inn
Spaniards Inn
Shrouded in mystery and intrigue, some of London's most important literary figures have passed through the Spaniards Inn's front door, along with a number of notorious characters. Established in 1585, it has been both a place of great beauty and great darkness - John Keats is said to have written his poem Ode to a Nightingale here, while famous highwayman Dick Turpin seen drinking at the bar. Nowadays, they do a lovely Sunday lunch. Address: Spaniards Rd, Hampstead, London NW3 7JJ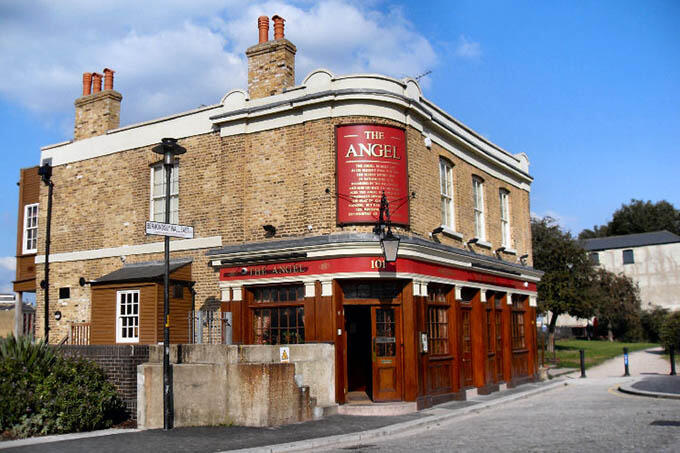 Image via Knowledge of London Pubs
The Angel
First built by 15th century Benedictine monks, this historical pub had a face lift in the 19th century and has a diverse mix of patrons ranging from locals to Thames pub journeymen and journeywomen. Its picturesque Thames setting and Sam Smiths Brewery add to its charms. Oh, and it's got some very pleasing British pub grub too. Address: 101 Bermondsey Wall E, London SE16 4NB     Know of another golden oldie to add to the list? Let us know in the comments below. Now you've done the historical ones, how about a pint outside?