Calling all children. No, not 
just
 the little ones. 
All
children. Yes, even you. It's nearly time to salute your parents for an entire day. Well, one of them at least. That's because Mother's Day 2020 is bobbing on the horizon like the Titanic, or perhaps another, safer boat. Yes, every mother's favourite day is back. Of course, you should be thankful for your mothers
all the time
. But why not show them 
how much
 you care by showering them with good times this one specific day! And what better way to treat them than with a big day and/or night out on the town? London town, to be exact. Well, guess what? It just so happens that we have prepared this awesome list just for you. We've been busy, scouring the on-and-offline worlds to bring you the very best entertainment for Mother's Day 2020. So, no matter what kind of mother you have, you're bound to find some fun for mum.  
Featuring:
Adventurous mums will love the world's tallest slide

Cultured mothers should be taken to Curzon Cinemas

Grub-loving mums will delight at London's best vegan restaurants

Active mums will take a shine to QUEENS: Skate Dine Bowl

...and more!
Take a ride on the world's biggest slide
While you may be busy sliding into DMs, your mum might not even know what a DM is. And why should she? When her generation was young, online social networks weren't around. Instead, they presumably spent their youth with wholesome activities like sliding down slides. So why not surprise your mum this Mother's Day by taking her to the 
world's biggest slide
? Head over to the Olympic Park to discover ArcelorMittal Orbit, a grand monument to London's Olympic Games held back in 2012.
Head up to the top of the 80-metre high viewing platform for some of the best views in the city. Easily spot The Shard, Big Ben, the O2 Arena, and up to 20 miles in each direction on a good day. Then, when your mum has seen it all, take her to The Slide. She'll reach speeds of up to 15 mph. She'll rush through 12 loops, travelling over 70 metres. And then, when all is said and done, she'll be ready to go to one of the other amazing attractions on our list. Only thrillseeking mothers need apply.

Britain's greatest gardens await 
Culture Vulture 

Outdoorsy
This is one for the green-fingered mums. Kew Gardens needs no introduction. It's easily the most famous gardens in Britain. And with good reason. Over 132 hectares of floral and faunal bliss. More than 50,000 plants to find. Explore different seasons and climates in the many giant greenhouses spread throughout. Discover the Carnivorous Plant Garden and experience the surprisingly dog-eat-dog world of the planet's plant life. Climb the Great Pagoda for some of the best views in the city.
Just make sure mum's wearing appropriate footwear, as you'll both be doing
a lot
 of walking to see everything Kew Gardens has to offer. And if you're worried about missing anything, you can also take a guided tour of Kew's best bits.
Then, when all is said and done, sit down for a tea and other refreshments at one of the on-site cafes. Alternatively, Kew Gardens are hosting a special Mother's Day Sunday lunch. Taking place at Wakehurst, a 16th century Elizabethan Mansion on the grounds, you can treat mum to a sublime two-or-three course meal that'll tickle the fancy of any self-respecting roast lover. Booking ahead is required, and you'll find everything you need right here. 
Discover the spooky history of London
Thrill Seeker

Culture Vulture 
Whether you're a London resident or visiting the capital from far-away lands, you probably have 
some
 idea of London's rich history. And that not all of that history is particularly...full of smiles. Yes, London has been the setting for some pretty ghastly goings-on in its 2000+ years of existence. Jack the Ripper famously stalked her streets back in the 19th Century. Many Kings, Queens and pretenders to the throne have met their grisly demise in London. And fires and plagues have ravaged her neighbourhoods. And yes, we're referring to London as a 'she', like an old sea-faring vessel.
So, if you're mother has a mind for the macabre, why not let her experience all this first-hand at The London Bridge Experience? With a sprinkling of humour and wit, meet actors portraying the heroes and villains of London through the years as they bring the city's fascinating tales to life. Explore faithful recreations of crime scenes and war grounds. And, if dear mother is of a particularly steely sensibility, descend into the Catacombs. Built on former plague pits, only the most daring venture into the belly of the bridge. Perhaps you'll even encounter the many ghosts that supposedly call it home. 
Take mum puzzle-solving at the Museum of London
Culture Vulture
Thrill Seeker
Some mums are the adventurous type. Their favourite films might be rope swinging and trap dodging extravaganzas. Or, gasp, they may have a penchant for food shopping
on a Saturday
. Either way, if that sounds like your kind of mum, then take a trip over to the Museum of London for their newest experience, Adventures at the Docks. Together, you and mum will search every nook and cranny of the museum, hunting for clues, solving puzzles, and doing everything you can to complete your quest. [gallery columns="2" size="full" ids="6426,6427"]
Images courtesy of © Museum of London
  Just bear in mind that this is primarily for families with smaller children. So, if any dads out there are looking for something to surprise mum and the kids, this is the perfect Mother's Day experience!  
Show your mother who's boss
Ok, so this isn't necessarily outdoorsy, but it will definitely get the blood pumping. QUEENS: Skate Dine Bowl is your one-stop-shop for all your entertainment needs. They house London's only year-round ice rink, so no matter the weather, you and mum can carve up some sick powder. Or something. Maybe have a race, just to prove your younger, more flexible frame is superior to hers. It's what Mother's Day is all about, after all. They even do ice-karting on special days, if you'd rather sit down for your sweet matricidal victory.
Or, if you'd rather avoid the chill, throw some bowls down their 12 dedicated bowling lanes. Obviously, the aim here is to try and beat her again. And if she wants to use the barriers, don't let her. Tear her ego down with your sick striking skills. If you have them. Then, if she dabbles in mobile games, show her what a 
real
 game is in the on-site arcade. And beat her. Beat her at videogames. And, finally, when you're all victoried out, settle down for some of London's best burgers courtesy of MEATliquor. No need to win at this one. Everyone's a winner when it comes to burgers. Plus, an eating race sounds simply unpleasant. As the saying goes, 'the family who 
eats 
together, 
defeats
 together'. That's a real saying. Look it up.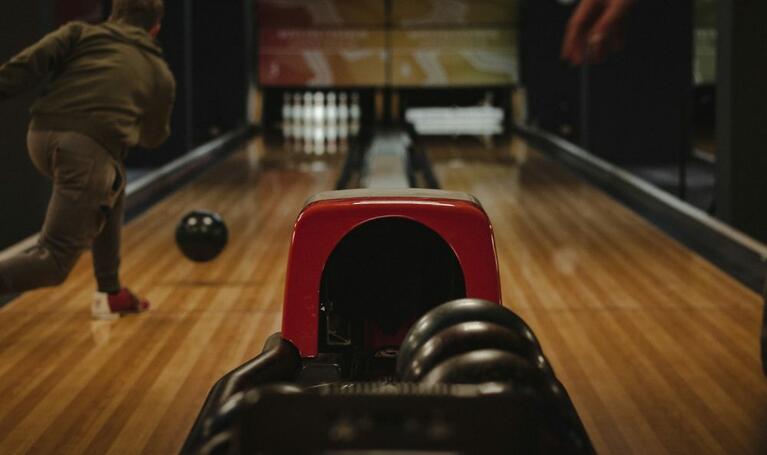 Dine Out
Take mum out for a slap-up meal across the city
They say that the way to a man's heart is through his stomach, but it's 2020. That might be a little antiquated these days. Because, let's be honest, 
everyone
 loves a hefty meal. So why not take your mum out for some fantastic food this Mother's Day? No matter her taste, there's plenty to taste in the capital. If she's into clean living, then vegan's where it's at. In fact, 
we've already compiled a list of the best vegan restaurants you should visit this year
.
Highlights like 
Temple of Seitan
 have a wonderful choice of faux-chicken offerings. London Pass writer Matt highly recommends the Temple Burger, saying 
"it's a must, with ranch mayo and bacon chiming with the burger cheese and pickles"
. All guilt-free, of course. Or you could try King's Cross' 
Itadaki Zen
, if vegan sushi is more of your mum's vibe. Alternatively, if you want to jazz up the meal with a little entertainment, check out the 
Faulty Towers Dining Experience
. A hilarious recreation of the revered 70's comedy plays out around you while you feast on a three-course meal, and wash it down with some drinks at the bar. And, with a host of 5-star reviews backing it up, it's sure to be a hoot. Plus, as a special treat to mothers everywhere, they also have special Mother's Day shows that'll give special nods to all the mums in the audience, and they'll even get a small box of chocolates as an extra thank you. These special Mother's Day shows run from 19th March - 22nd March. 
Make mum's day with a night at the pictures
Cinephile

Culture Vulture
Or, if your mum is the sort of person who simply loves reclining in a nice chair and absorbing an engaging story, take her to the best cinemas in the country. Curzon Cinemas pride themselves on a second-to-none viewing experience. Inside, every Curzon Cinema features a lavish bar with made-to-order cocktails, a fantastic cafe with delicious bites, and a mixture of old classics, current hits, and independent darlings playing every day. And, once your mum steps foot in the theatre, she'll finally understand why you thought taking her to the cinema was a brilliant Mother's Day plan.
Crystal clear, massive 4k screens bring every laugh and tear to life. Cushions she'll sink into and never want to leave. And all of that backed up by incredible Dolby 5.1 surround sound that puts her TV soundbar to shame. Also, if she's lucky, she might even brush shoulders with the stars, as many celebrities of cinema regularly visit Curzon Cinemas to get their film fix. 
Take mum to walk and talk with the animals
Peel nature-loving mums away from the latest, greatest nature documentary and take her to the wonderful world of the 'outside'. The London Wetlands Centre is the perfect place to get up and close with some of the animal kingdom's finest. Feed the ducks, watch the dragonflies and butterflies dancing serenely across the gardens. And, maybe, pick her up something from the gift shop too, because on Mother's Day, mums get in for
absolutely free
. [gallery columns="2" size="large" ids="6432,6433"]
Images courtesy of London Wetlands Centre
They're also offering a special, slap-up Mother's Day roast
, with your pick of two courses and a glass of wine to boot. Whether she's a sucker for succulent beef, or prefers the sweet stylings of a veggie roast, there's something here for every mum. Top it off with a selection of delicious desserts including vegan-friendly raspberry tart and a chocolate fudge cake smothered in cream. Book now to make sure she doesn't miss out.
And...
Well, there you have it. Just some of the best places to take mum on Mother's Day in 2020. Of course, London is positively
teeming
 with entertainment opportunities. Some mothers would surely love a trip around one of the city's countless museums and art galleries. The 
V&A
 currently has an exhibit on Mary Quant, the undisputed queen of British high-street fashion. Or, if your mum's interests lean a little more toward technology, the Science Museum is just across the road. They even have their own 
IMAX theatre
, which plays a number of award-winning documentaries about space, the deep sea, and many more. Or, if history's her thing, check out the likes of the 
Tower of London
 or 
Hampton Court Palace
. 
Got something else up your sleeve this Mother's Day? Let us know how you plan to surprise her in the comments below!