Hollywood has enjoyed portraying British people as a painfully polite bunch in billowing skirts, twizzling their moustaches and playing fusty old lawn games before sitting down to fastidiously arranged tiered trays of tea, sandwiches and cakes.
The stereotype is about as true as the idea that all American babies are born with a Big Mac in each hand, singing the Star-Spangled Banner. But afternoon tea certainly is a quintessentially British experience.
So, during your visit, you're going to want to get to know the best afternoon tea places in London. We leave our teabag in the cup when we make ours. Some people, the heathens, use one bag to make two cups of tea. Some like the crusts cut off their sarnies because it gives them curly hair. The war of words between those who cream a scone before they jam it, and those who jam it before they cream it rages on.
It's true, we're an opinionated set when it comes to how we like our tea, sarnies and sweets made. But there are some London cafés, bars and restaurants for whom variation in the way they serve their Afternoon Tea is more than just a case of petty squabbling. The choice of afternoon tea places in London is immense in its variety these days.
So, whatever your tastes, you'll be able to dip into this fine old British tradition without straying far from your own sense of style.
The Shakespearean One
Sitting pride of place within Shakespeare's Globe on the Southbank, Swan cleverly weaves together two of Britain's most cherished cultural exports: afternoon tea and the work of the Great Bard himself.
Adding a theatrical twist to traditional afternoon tea in London, Swan's 'Romeo and Juliet' afternoon tea is inspired by the beauty and lyricism of Shakespeare's great romantic tragedy. The treats here include Scottish salmon served in a navette brioche bun, cheddar and roasted squash tartlet with sultana and orange blossom scones and red velvet and cream cheese filled macaroon sealed with a chocolate kiss... 
Indulge here before watching a performance at Shakespeare's Globe for a memorable afternoon experience.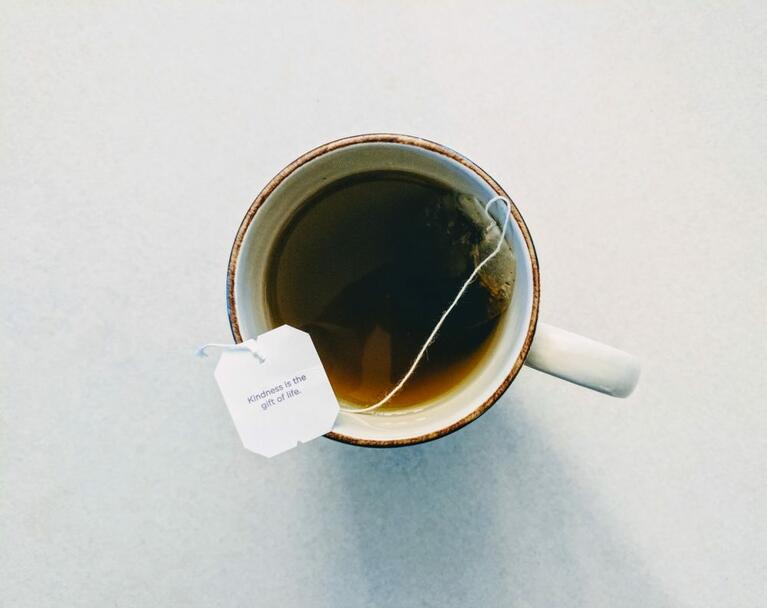 The Pink One
Everything in our office is bright pink now. Pink curtains, pink walls, pink cutlery. We've painted the office cat pink. We only listen to Pink Floyd, Pink Moon by Nick Drake and, of course, P!nk. Our eyes hurt. We can't stop. But even we are outdone by sketch when it comes to the millennial's colour of choice. And no, they don't use a capital letter in their name.
The Gallery dining room at sketch offers perhaps the most modern and manicured setting for afternoon tea in the capital. Over 200 original pieces by the Turner Prize-winning and very, very funny artist David Shrigley hang on the pink walls.
The artistry - and pinkness - continues onto the plate, with savouries including a salmon and tarragon cream on rye, as well as a show-stopping foie gras tartlet. The rhubarb and raspberry cheesecake, and rose and lychee macaroon are the stars of the sweets.
Don't forget to lift your pinky finger in the air while you sip...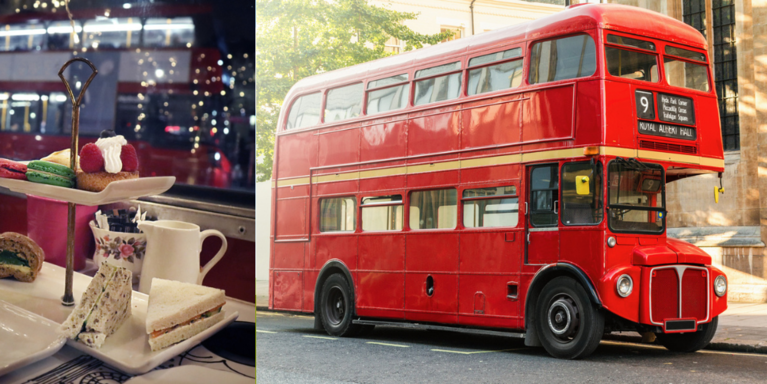 The Two-Birds-with-One-Stone One
The unique B Bakery Afternoon Tea Bus offers you the chance to enjoy an ever-changing view of the city as you tuck into your afternoon tea. Yep, it's an afternoon tea served during a bus tour of London's best-loved landmarks.
Setting off from Trafalgar Square and Victoria Station, the vintage red London Routemaster buses take you past the Royal Albert Hall, Harrods, Marble Arch, Big Ben and plenty more landmarks while you enjoy high tea, served with a set of delicious sandwiches, light cakes and delicate pastries.
Never has getting stuck in London traffic tasted so good.  
The Vegan One
A little way off from the centre of town, Cake Boy is tempting more and more visitors to take a trip out to Battersea, particularly since they started serving their vegan afternoon tea.
Stylish cakes and pastries are the main attraction here, including a vegan take on the classic 'Mont Blanc' and a stunning red velvet cake. Inventive, ethically-minded and delicious.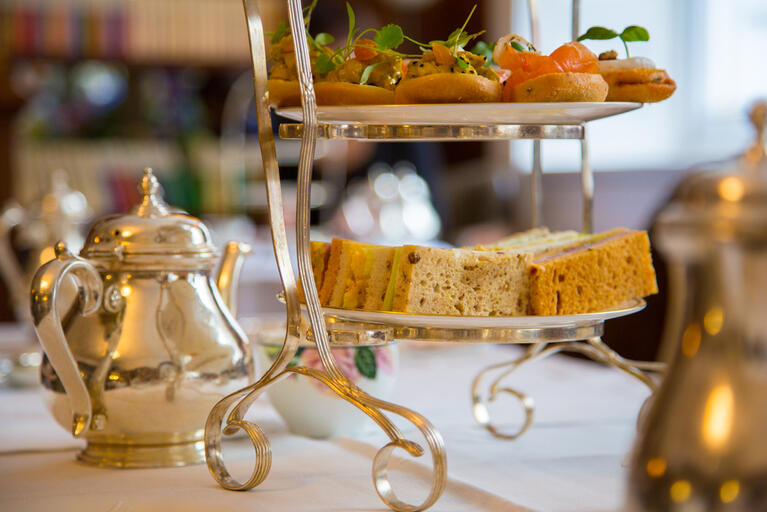 The Classic One
Perhaps the best-known purveyor of classic afternoon teas in London, The Ritz is the only hotel in the country to have a certified tea sommelier. He travels the globe, tasting and choosing teas to be added to their impressive menu.
It's this obsession with perfection that has helped The Ritz keep its reputation as the place for tea in London since the 1920s. The cakes and pastries are immaculately presented, and the finely cut sandwiches are replenished on request, so you'll feel full as well as fancy.  
Looking for more inspiration on things to do around the city? Check out our blog on the best rooftop bars in London.

Save on attraction admission
There you have it – our definitive list of the best Afternoon Tea spots in London. Consider stopping by one of these choices while you're out exploring this great city! And don't forget to pick up a London Pass – you'll make huge savings on attraction admission rather than paying at the gate.