The Thames River Boat Cruise gives you the chance to see the city from a different angle. Run by City Cruises, the sightseeing boat ride gives you fantastic views of London as you head down the famous, storied River Thames.
Where does the Thames River Boat Cruise leave from? And where does it go?
The boats stop at four different piers: Westminster, London Eye, Tower and Greenwich.
How much does it cost?
The hop-on hop-off boat tour normally sets you back £19.50 for an adult, £12.75 for a kid (ages 5 - 15), but it's included with your London Pass. This entitles you to embark and disembark as many times as you wish over a 24 hour period, at any of the four stops along the river. For other tickets, the full cruise - Westminster to Greenwich or vice versa - is £13.25 for an adult single, £8.50 for a child single. If you're just going one stop, upstream or downstream, it's £10.75 for an adult, £7.00 for a child. Return tickets for the full tour - Westminster to Greenwich or vice versa - are £17.50 for an adult, £11.25 for a child. If you're going one stop down the river, upstream or down, it's £16 for an adult and £10.75 for a child.
How often do the boats run?
The boats leave each pier around every 40 minutes.
What time do they run?
The first boats of the day leave Westminster and Tower piers at 10am. The first boat from London Eye Pier leaves at 10.10am, while the first from Greenwich leaves at 10.30am. The last boat leaving Greenwich departs at 6.30pm. The last one going all the way from Westminster to Greenwich departs at 16.40. Later services from Westminster only go as far as Tower, with the last service departing Westminster at 7.20pm.
What is the journey time?
The full length of the cruise, heading from Westminster to Greenwich piers, takes 70 minutes one way, 180 minutes return. From Westminster to Tower Pier, it's 40 minutes one way, 80 minutes return. From Tower to Greenwich, it's 30 minutes one way, 80 minutes return.
How do I use my London Pass to get a hop-on hop-off cruise?
Simply show your London Pass at the ticket office at any of the piers. You will receive a 24 hour hop-on hop-off ticket. The 24 hours starts at the time you receive this ticket from a City Cruise ticket office.
If I get a return ticket, do I need to stay on the boat for the return journey or can I disembark?
You don't need to stay on the boat. You can disembark, explore the area and get on a later boat for your return journey. Make sure you check that the service will still be running though!
What can I see from the boat?
From the comfort of the sightseeing boat, you can see many of London's most famous buildings and cherished landmarks, including the Houses of Parliament, Big Ben, the Tower of London, Tower Bridge, Shakespeare's Globe, the Tate Modern, Cutty Sark and The Shard.
Are the sightseeing boats fully accessible for people in wheelchairs?
Most of the boats are, with a maximum of two spaces for wheelchairs. It's best to call the reservation team to check which services will be best for you. You can reach them on +44 (0)207 7400 400. Their hours at 8am - 6pm, Monday to Friday, and 10am - 4pm on weekends and bank holidays.
Are the sightseeing boats heated?
Yes, they all are, and all Thames River Boat Cruise boats have indoor seating.
What are the boats like?
All have an indoor lower deck, while most have an open-air upper deck, giving you unimpeded views.
Can I get food and drink on board?
You can. There's a bar onboard all sightseeing boats offering hot and cold drinks, snacks and sandwiches.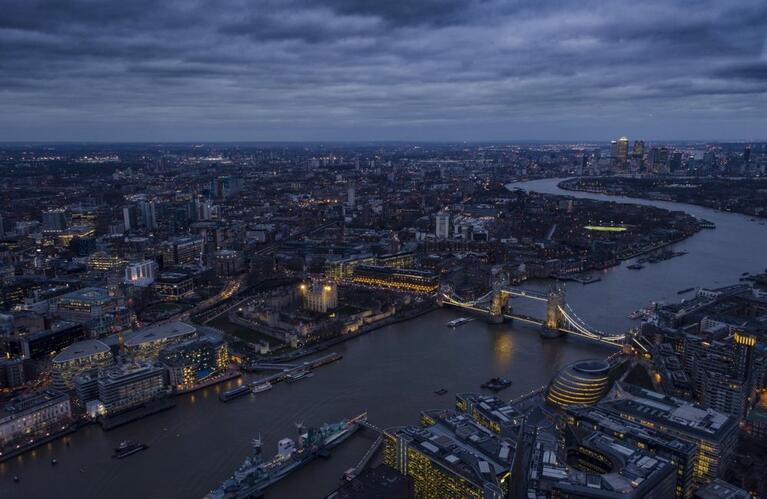 Is there an audio guide?
There is a live or recorded commentary in English on board all sightseeing cruises. This is entirely complimentary.
Is it in any language except English?
Yes, you can get an audio guide in seven other languages: Italian, French, German, Russian, Japanese, Spanish and Chinese. Pick up your free audio guide from the bar aboard the boat.
Can I bring a bike aboard?
No, unfortunately not, but kids' scooters are allowed aboard a Thames River Boat Cruise. Looking for some other things to do around London? Check this out.